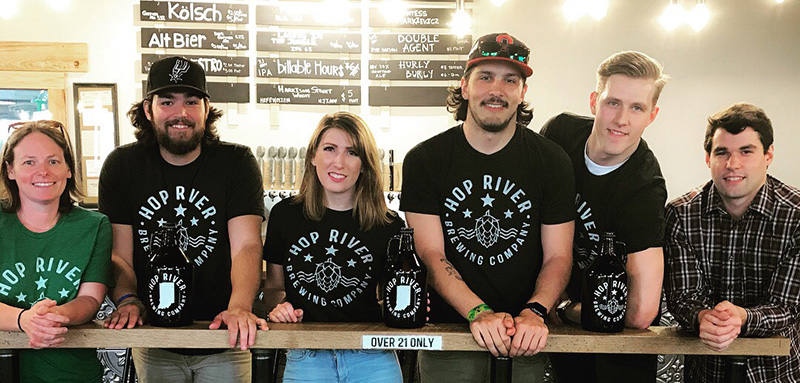 Students Assist Hop River with Hands-on Marketing Help
Indiana Tech collaborated with Fort Wayne craft brewer, Hop River Brewing Company, to provide a hands-on business experience for seven Warrior interns earlier this year. Hop River opened on Feb. 3, and its taproom has become a popular destination in Fort Wayne. In addition, its beers have won awards and several are on tap at more than 20 locations throughout the city. The partnership gave Jacob Fallis, Chad Frost, Felix Kronwall, Hudson Sabin, Brian Skillicorn, Tess Wilkins and Zachary Zam, an engaging opportunity to witness and contribute to the process of building and running a small business in Fort Wayne. All but Zam graduated in May; Zam is a senior this year. As a final project for the group, its classroom education came to life as it was tasked with strategically evaluating Hop River's marketing model. "Through this partnership, we were able to look at our business through the eyes of young professionals and the next generation of craft beer drinkers," said Hop River co-founder, Ben Jackson. "The enthusiasm and dedication of these students was evident, and their comprehensive insights helped us refine how we communicate our message to existing and potential customers."
FMM Degree Helps '17 Grad Land Impressive Position on East Coast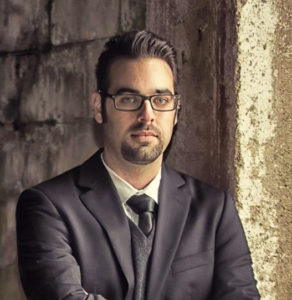 Johnathan Shrout was one of those students everyone loves to have in the classroom."Every day, Johnathan was fully prepared to engage in discussion and was always looking for ways to enrich his education with extracurricular opportunities," said assistant professor Kayla Crecelius about Johnathan, a 2017 graduate of her fashion marketing and management program. "In addition to going the extra mile for his own education, he was also an ardent supporter of his peers and their goals and aspirations and consistently worked to serve as a model for those around him." So, when Johnathan landed a position at Burlington Stores' corporate headquarters in Burlington, New Jersey, shortly after graduation, professor Crecelius was not surprised. "I was so ecstatic for him," professor Crecelius said. "I had no doubt in my mind he would do great things, and so far he is more than proving my point. I cannot wait to see the next amazing thing in store for him." As an allocation analyst, Johnathan works with stores to make sure the buyers' vision of the rack is being executed in an appropriate manner by making sure the right products are getting to the right stores at the right time. "I love my job and the career path that has been laid out before me at Burlington," Johnathan said. "There are so many opportunities for advancement, which is great because I'll never feel stuck or that I've reached a career plateau." Fort Wayne is never going to be confused as the Midwest's focal point for fashion, but it Indiana Tech, professor Crecelius is working to create a progressive learning environment and launching pad for fashion professionals of all types. "My education at Indiana Tech, under the direction of Kayla, helped me gain real industry knowledge from someone who has experienced it first-hand," Johnathan said. "I learned so many things from Kayla that I really felt prepared, not only for this role, but any role that would have come my way." "One thing I love about the FMM program we have created at Indiana Tech is the diverse range of knowledge and skills that can be learned through our courses. Students not only get a general foundational knowledge, they also have the opportunity to take courses on topics such as visual merchandising, trend forecasting, textiles and product development," professor Crecelius said. "Additionally, each student completes the 10-course business core, which gives them a great mix of business knowledge in a variety of areas. Students also complete an internship that allows them to work closely with professionals in the industry. And, because of Indiana Tech's size, students can count on getting personal attention from faculty and staff that will help them navigate their future. "I love that I have the opportunity to get to know each student on a personal level and learn about their career and life goals. That way I can steer opportunities their way if I hear of them and make sure that each student is making the most out of their time at Tech," Crecelius said. "It is exciting to see how many different ways my graduates are using their degrees; each student really tailors their experience to suit their specific interests and needs."
Project Management Concentration Added to MBA Program
Indiana Tech's MBA degree program is now offering a concentration in project management. This addition offers students the unique opportunity to earn their MBA while developing the right skills to succeed in the rapidly growing field of project management. Project managers oversee all elements of a project, and their skills and experience are essential to a wide range of industries. These professionals lead cross-functional teams within organizations, ensuring that work flows steadily, and that projects have clear starting points, deadlines and concrete goals. Combined with the management skills provided by Indiana Tech's MBA coursework, the project management concentration helps students become versatile and effective business leaders. Upon completion of the program, students will be able to:
Demonstrate advanced knowledge in the functions and operations of business
Increase the efficiency and competitiveness of an organization
Guide projects from planning to completion
Perform and lead other key tasks such as the creation of budgets and timelines, the development of estimates, and the management of outside resources
Identify and evaluate project goals and deliverables
Hire, train and oversee project management staff
Communicate clearly and professionally with a high degree of interpersonal skill
Utilize complex problem solving skills to determine solutions
Grable is Named Director of the C3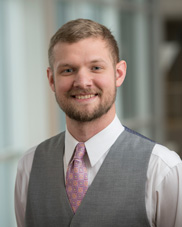 Trent Grable has been named as the director of the Center for Creative Collaboration (C3). Created in August 2014, the C3 serves as a conduit between Indiana Tech students and business professionals within northeast Indiana. Its goal is to create various types of mutually beneficial relationships that ultimately result in quality learning opportunities for university students. Trent is excited about catalyzing the excellent work of current C3 staff and Indiana Tech faculty by implementing strategic partnerships and technological tools that optimize value capturing skillsets. "I'm excited about the initiatives, partnerships, and development opportunities we have lined up for our students and our region. I think our change in structure has begun to find fans who see the benefit of value-creators for the impact they bring in of themselves," Grable said. "It's about changing the metrics from the number of new businesses to the impact our students have in capturing untapped value for the organizations they hope to contribute." Moving forward, one of Trent's priorities is to change the way the organizations defines entrepreneurship. "Many entrepreneurial organizations judge the entrepreneur in terms of their venture, typically the "startup" they created – even if the company is 15-plus years old. The last year the C3 has been making the transition from thinking about entrepreneurship as a tool for outcomes (money, jobs, businesses, etc.) and more as a skillset and expertise in itself. So, while we still want to help students launch new companies and contribute to northeast Indiana's entrepreneurial economics, our focus is on training students and community members how to find, capture and distribute value wherever they are. New companies, existing organizations and non-profits all benefit from those who can increase the innovation performance of their communities." Want to learn more about Indiana Tech's C3 or share your business acumen with this organization? Visit theC3.com or email Trent at TLGrable@indianatech.edu.
Our Student SHRM Chapter Wins Again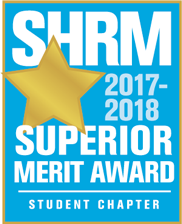 The Society for Human Resource Management (SHRM), the world's largest HR professional society, representing 285,000 members in more than 165 countries, honored Indiana Tech's student SHRM chapter with a 2017-18 Superior Merit Award. The annual Superior Merit Award program recognizes chapters for outstanding activities and projects in the following areas:
Student Chapter Requirements
Chapter Operations
Chapter Programming and Professional Develoment of Members
Support of the Human Resource Profession
SHRM Engagement
Indiana Tech's student SHRM chapter, which is the largest student organization on campus, has earned a Superior Merit Award every year since 1998. For more information about Indiana Tech's SHRM chapter, contact faculty advisor and professor of business, Dr. Jeffrey Walls, at jlwalls@indianatech.edu.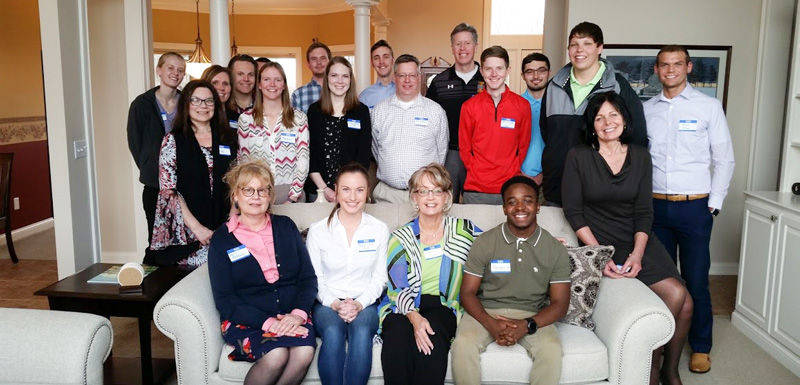 Accounting Grads Share Experiences and Advice
Indiana Tech accounting alumni Bradley Drysdale (2012), Nathan Kolmerten (2015), Matthew Sheppard (1993) and Mitchell Wilson (2014) shared their work experiences and career advice with members of the Society of Future Accountants during its annual alumni event in April. The Society of Future Accountants is a professional development group that aims to connect current accounting students with Indiana Tech alumni and accounting professionals within the community. If you are interested in learning more about this group, contact faculty advisor and assistant professor of accounting, Lisa Brown, at lrbrown@indianatech.edu.