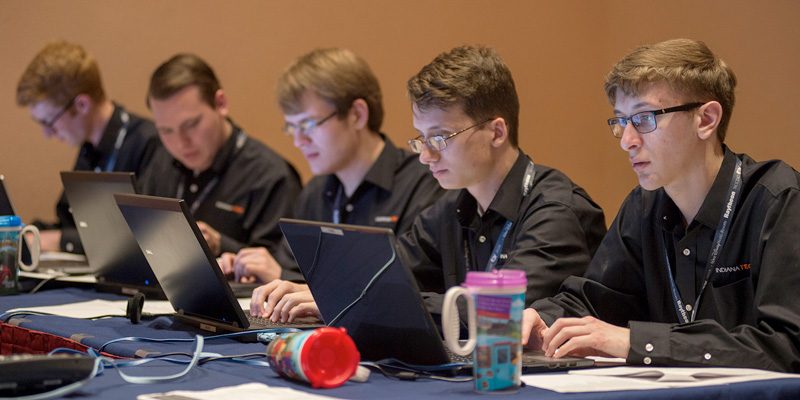 Cyber Warriors win Fourth Straight State Championship
Much like the Alabama Crimson Tide is synonymous with college football excellence, Indiana Tech continues to bolster its reputation as a collegiate cybersecurity powerhouse – especially after another exceptional spring of competition.
In March Indiana Tech's cybersecurity team, the Cyber Warriors, won their fourth straight Indiana Collegiate Cyber Defense Competition championship and eighth state title overall, besting a field that included Purdue University and Indiana University.
From there, the Cyber Warriors vanquished a field of schools from Illinois, Iowa, Kentucky, Michigan, Ohio, Minnesota, Missouri and Wisconsin in the Midwest national qualifier in Palos Hills, Illinois. The win lifted them to their first national tournament appearance since 2011.
Despite going up against larger schools and several teams with extensive experience at the championship level, the Cyber Warriors held their own and finished in the top 10 at April's nationals.
"Overall there were 234 schools that competed in CCDC this year, many of which are Division 1 schools, Ivy League schools and the like. Just by making it, our small-but-mighty university has proven to be in the top five percent of cybersecurity programs nationwide. That is impressive!" said Cyber Warriors faculty advisor Matthew Hansen.
Indiana Tech finished its cybersecurity season by fielding two teams in the National Cyber League, an ongoing virtual training ground for participants to develop, practice and validate their cybersecurity knowledge and skills.
In the NCL's spring season, 3,344 of the top cyber security students from 250 schools in 48 states competed against each other. Indiana Tech's Team #1 finished 11th, paced by Rob Dukarski's 41st-place individual finish.
I am so proud to be affiliated with the members of this team," Hansen said. "I've done the math and these students spend approximately 650 hours per calendar year training – more than some full-time sports teams. I am very proud of their accomplishments and I am excited to see what we can do again next year."
2017-18 Cyber Warriors Roster
Matt Kowal:
Team captain, Linux practice lead
Graduated in May 2018, Computer Science; 3-year Cyber Warrior veteran
Matt Billeck:
Team lieutenant, HMI and team management specialty
Graduated in May 2018, Computer Engineering; 3-year Cyber Warrior veteran
Tony Burkhart:
Network practice lead
Senior in upcoming school year, Network Engineering; 3-year Cyber Warrior veteran
Chandler Dodenhoff:
Linux specialty
Graduated in May 2018, Network Engineering; 1-year Cyber Warrior veteran
Ethan Anderson:
Linux and HMI specialties
Junior in upcoming school year, Computer Engineering; 1-year Cyber Warrior veteran
Adam Swanson:
Linux specialty
Junior in upcoming school year, Software Engineering; 1-year Cyber Warrior veteran
Rob Dukarski:
Linux and web specialties
Graduated in May 2018, Web Development
Aaron Blackman:
Networking specialty
Senior in upcoming school year, Network Engineering
Alex Knipper:
Windows and documentation specialties
Sophomore in upcoming school year, Computer Science
James Swank:
Windows and reconnaissance specialties
Sophomore in upcoming school year, Cyber Security
Coaching staff 
Matt Hansen:
Team coach and faculty advisor
B.S Network Engineering, M.S Engineering Management; 24 industry certifications; 8-year Cyber Warrior veteran
Ian Springer:
Team coaching assistant
4-year Cyber Warrior veteran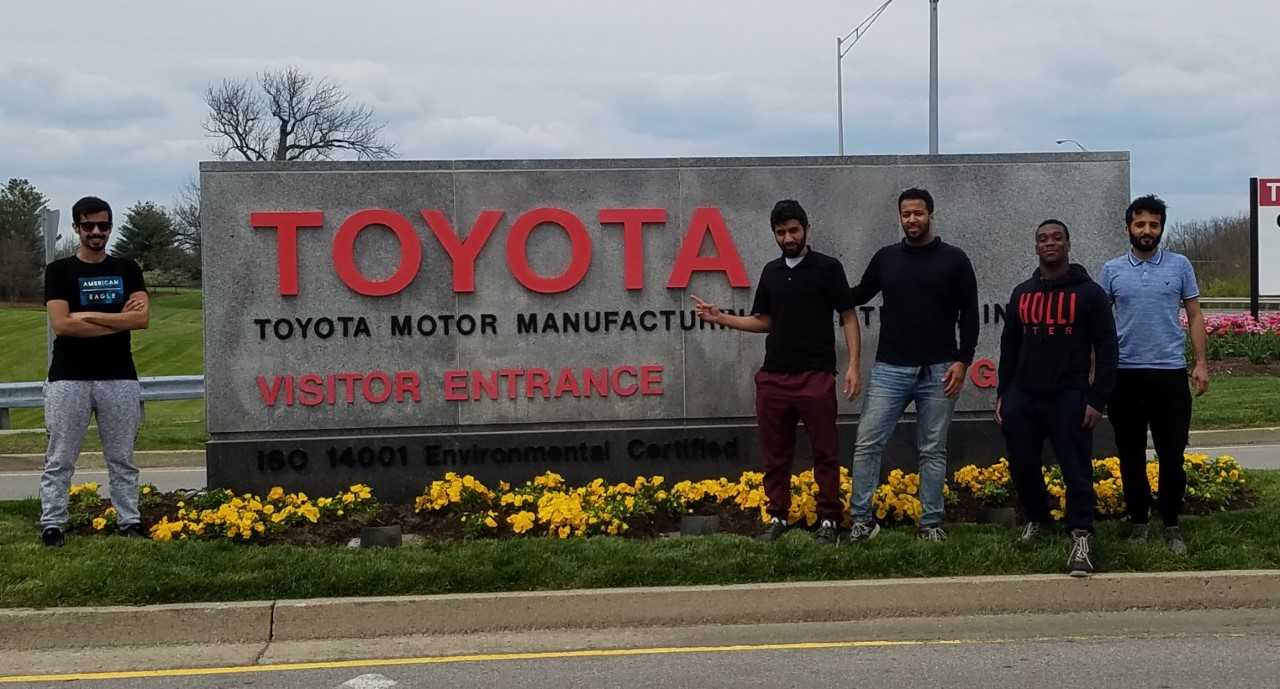 IME 4020 Students see Toyota Manufacturing Processes in Person
After engaging her IME 4020 Lean Manufacturing class in the Toyota Manufacturing Process throughout the spring semester, Peggy Canales, associate professor of industrial and manufacturing engineering, showed her students those Toyota philosophies and tools in practice during a tour of Toyota Motor Manufacturing Kentucky (TMMK) in Georgetown, Kentucky.
TMMK was the first Toyota plant built in the U.S. and currently employs more than 8,000 workers. The plant tour guides emphasized elements like visual controls, root-cause analysis, teamwork and building to takt time. Toyota's current takt time is 54 seconds. That means a finished car is rolling off each of the two production lines every 54 seconds. Additionally, Toyota uses mixed-model production. On the same production line, there could be a Camry, immediately followed by an Avalon, then a hybrid Camry or a hybrid Avalon. This is another of the core practices of the Toyota Production System.
Morales, Owens Shine During NSBE Chapter's Stellar 2017-18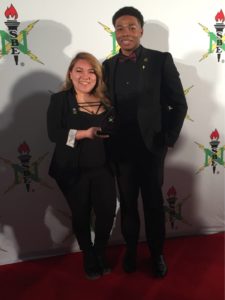 In March, the debate team of Alexis Morales and junior Cameron Owens earned national championship honors at the National Society for Black Engineers annual convention in Pittsburgh. It was the second straight year Indiana Tech won first place in the debate competition. The duo prevailed over the NSBE debate team from Ohio State for the win. Morales, who graduated in May, also earned second place in the Technical Research competition.
Shining at the national conference wasn't the only highlight for what has become one of the nation's most successful NSBE chapters. Tech's NSBE chapter formed the Rocket Launch program with the Boys and Girls Club of Fort Wayne.
"NSBE students initiated this program to help kids learn about STEM fields," said faculty advisor Dr. Susan McGrade. "They gave guide tours of the Zollner Engineering Center, spoke with the kids about their majors and helped them build rockets. In all, there were about 35 Boys and Girls Club members who participated."
The initiative was supposed to culminate with a launch of all the rockets that were built. However, rain postponed the launch; it will be rescheduled to this fall.
Chartered in 2005, Indiana Tech's NSBE chapter has had a steady presence on campus in its mission "to increase the number of culturally responsible Black Engineers who excel academically, succeed professionally and positively impact the community."
Over the past 10 years at Tech, 86 percent of all students who join and remain in NSBE graduate with their engineering degree. The national average rate for black students in engineering is 31 percent. Additionally, Indiana Tech's NSBE chapter had a  3.37 average cumulative GPA during the 2017 spring semester, up from 3.27 for the entire 2016-17 school year.
Trowbridge, Hapner Rise to the Robotics Challenge
Indiana Tech's Explorer Post 2829 sent 41 young people to April's National Robotics Challenge in Marion, Ohio. The group came home with a total of 14 awards – six gold, three silver and four bronze. Plus, it received one of only 12 nominations for the Honda Innovation Award, the top prize of the entire event.
Among the winners were Indiana Tech students Chad Trowbridge, a junior pursuing a B.S. in computer science, and Josiah Hapner, a senior studying electrical engineering. Additionally, Chad received the nomination for the Honda Innovation Award for his work on his Tactile Maze robot.
Exploring is a subsidiary of the Boy Scouts and focuses on career exploration. It is open to both boys and girls under the age of 21. Indiana Tech's Post 2829 was started on 1995 and covers engineering in general and robotics in particular. It is advised by Indiana Tech physics professor Rex Joyner, along with several members of the community. During the awards ceremony at the conclusion of this year's National Robotics Challenge, Dr. Joyner was recognized for 24 years of attendance at the NRC and its predecessor competition.
To learn more about Indiana Tech's Explorer Post 2829, contact Dr. Joyner at rwjoyner@indianatech.edu, or visit the post's website at indianatechexplorers.com.