Graduating IT
Cheers and some tears (of joy) were the order of the day on Saturday May 11, 2019: Commencement Day at Indiana Tech. Over 1,000 Tech graduates took part in the university's 98th commencement ceremonies at Allen County War Memorial Coliseum in Fort Wayne. Indiana Tech faculty, staff, alumni and thousands of family and friends were on hand to help them celebrate. For the first time, Indiana Tech held two commencement ceremonies: one for those receiving undergraduate degrees, and another for those earning graduate-level degrees. See who were Indiana Tech's outstanding students for 2019.
See a special video below from Commencement 2019—a video that capture the spirit of the occasion and a day known to all around the university as our best day of the year. Also, see a special video message, "The Way of a Warrior," from 2019 BSBA graduate Xavier Williams, which was played at both commencement ceremonies.
Total Graduates
1,303 graduates
902 attended
Home Away from Home
104 international graduates
374 graduates from outside indiana
Beyond the Classroom
41 graduates are scholar-athletes
Perfect 4.0 GPA
25 undergraduates
15 master's graduates
3 Ph.D. graduates
Military
96 graduates are veterans or members of the military
Degree Types
1,066 Undergrads
218 Master's
19 Ph.D.
The four founders of Northeast Indiana's Advancing Voices of Women (AVOW) were this year's commencement speakers, delivering remarks during the undergraduate commencement ceremony. Patti Hays, Marilyn Moran-Townsend, Rachel Tobin-Smith and Faith Van Gilder established Advancing Voices of Women (AVOW) in 2017. The non-partisan group works to advance the voices of women in civic life and community involvement, encourage civil discourse, welcome new voices, and promote honesty and integrity in public service and community conversations.
During the graduate commencement ceremony, Indiana Tech president Dr. Karl Einolf presented the AVOW founders with the Indiana Tech President's Medal in honor of their service to the community. The graduate commencement also featured remarks from one of Tech's newest Ph.D. graduates, Dr. Brian Ellis. Along with 13 others, Dr. Ellis was presented with his Ph.D. in Global Leadership degree during the graduate ceremony.
Assistant Professor of Biology Amy Shank was recognized during commencement as the 2019 Faculty of the Year award winner. Each year, a committee of students from the traditional undergraduate and College of Professional Studies programs choose the Faculty of the Year winner from among a slate of nominees offered by students. Award winners exemplify excellence in teaching through in-depth knowledge of their discipline; providing opportunities for growth and learning to students; building strong relationships with students and colleagues; holding high expectations for students; and helping them achieve their fullest potential, among other qualities.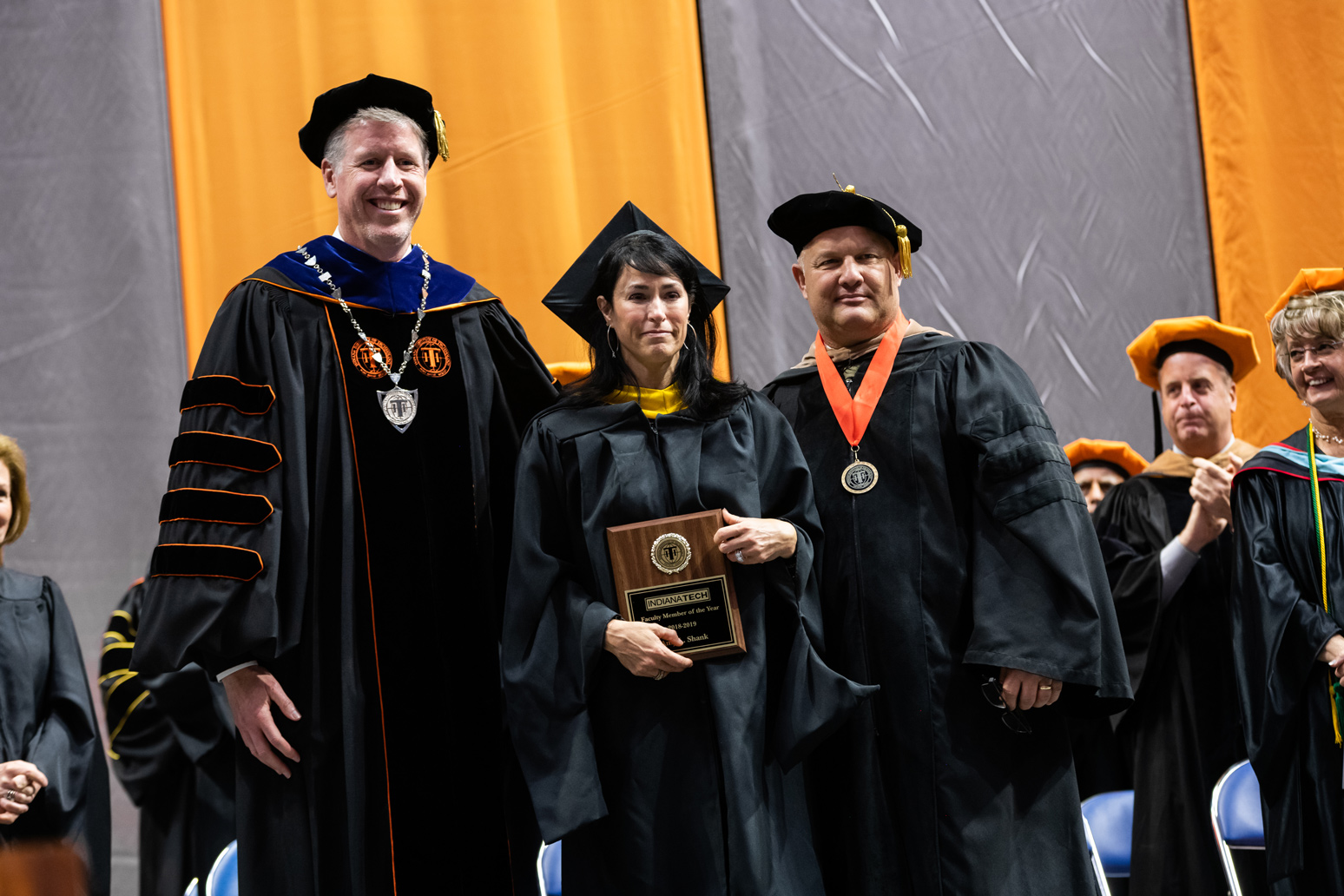 Each commencement ceremony concluded with a special performance of the Indiana Tech alma mater by alum and current Student Life Programming and Conference Events Coordinator Darius Darling. Following the ceremonies, the newly minted Indiana Tech alums were joined by family, friends, faculty and staff back on the main campus for a community picnic featuring Fort Wayne's finest food trucks, games, and fellowship.
2019 Commencement Ceremony