Generous Medtronic Donation Aids Student Learning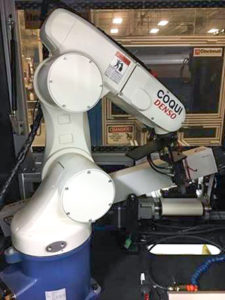 Earlier this year, the Medtronic manufacturing plant in Warsaw donated two Cincinnati Automation inspection machines fitted with DENSO robotic arms to Indiana Tech's Warsaw campus. The donation was made to train students in the area of computer-aided machining and robotics.
Indiana Tech graduate and adjunct faculty member Lon Hatfield helped arrange the donation. Lon is also a project manager at the Medtronic facility in Warsaw. He earned a Bachelor of Science in Industrial and Mechanical Engineering in 2011 and a Master of Science in Engineering in 2015.
"Indiana Tech is extremely grateful to Medtronic and Lon for making this generous donation happen," said Jeri Burkhart, assistant director of College of Professional Studies operations. "These tools will be very instructive for students in our computer- integrated manufacturing courses, but we will find ways to integrate this robust technology into other classes, as well. We thank Medtronic for its commitment to education in the Warsaw community."
Inspection machines use manual, mechanical and computerized electronic systems to inspect products and make sure they conform to specifications. Products that fall outside of preset specification values are rejected. Those preset values may be related to the color, size and mass of the product; the presence of foreign bodies in a product or package; the integrity of the pack; missing labels or items; or incorrect data. Cincinnati Automation and DENSO Robotics are highly regarded in their respective industries.
Medtronic, headquartered in Dublin, Ireland, is among the world's largest medical technology, services and solutions companies – alleviating pain, restoring health and extending life for millions of people around the world. Medtronic employs more than 86,000 people worldwide, serving physicians, hospitals and patients in more than 150 countries.
Indianapolis
Twenty adjuncts from the Northern Kentucky, Louisville, Jeffersonville, Evansville and Indianapolis campuses attended the Adjunct Faculty Scholars Conference in New Albany, Indiana.
This group trip, arranged by assistant deans Lisa Moeller and Kevin Davis-Smith, taught participants new teaching and classroom techniques and helped them connect with peers from other Indiana Tech locations and adjuncts from other schools in Indiana and Kentucky.
"I am hopeful that we can have an even larger number of adjuncts attend the conference next year, as the impact has been significant for those who attended," Moeller said. "I have been asked to join the Adjunct Faculty Scholars Regional Stakeholders Committee, which will allow me to have an influence on content for next year's conference."
Some adjuncts who attended had this to say:
I learned a lot during this conference. More specifically, the valuable information gained from this conference allowed me to better see and appreciate the value of adjunct faculty and their influence on our students.
– Parrish G. Monk, Northern Kentucky campus
I feel the university has taken great strides to enhance my professional development by providing me with the opportunity to be present at this workshop.
– Michael A. Eisenback, Louisville campus
As an adjunct faculty member, it can be difficult to feel connected to the school beyond the course assignments. I was proud to represent Indiana Tech and felt that I was among some truly outstanding colleagues.
– Jason Amich, Indianapolis campus
Elkhart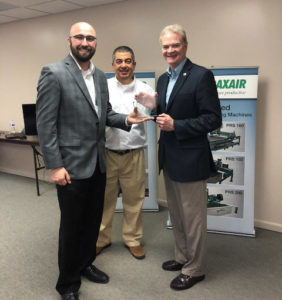 Indiana Tech Elkhart hosted a special Technology Day that was well-attended and met with positive reviews. The event was in recognition of National Robotics Week. Working professionals and students visited the event, where vendors and manufacturers from the technology industry were in attendance to spotlight the latest in robotics technology. The event was hosted by Indiana Tech, WorkOne Northern Indiana, Michiana Lean and Dronefinity.
Greenwood
Ryan Ozbun, assistant director of military and veteran services, and Duncan McCorquodale, director of CPS admissions, attended military recruiting events in Key West, Florida. The duo found themselves at mile marker zero, the southern-most point of the United States. During their trip, they met with local military personnel from the Coast Guard, Army National Guard and Navy.
Lafayette
Indiana Tech's College of Professional Studies opened its 18th location this summer in Lafayette. Ryan Kingsley, admissions representative, and Betty Cruz, enrollment assistant, join LaCinda Hagadon, admissions representative, at the new location. The team officially moved into the new location in July, and the university will host an official ribbon cutting ceremony on Thursday, Sept. 13.
Louisville
The Louisville admissions team hosted a graduation celebration for their 2018 graduates in June. More than 40 students and their family members attended the dinner. The Louisville team is also hosting an event in August at a Louisville Bats game for alumni and students.
Mishawaka
The Mishawaka campus was the luncheon sponsor for the Michiana SHRM chapter in May. Ellen Brown, enrollment manager in Mishawaka, was the keynote speaker for 125 human resources professionals in that region.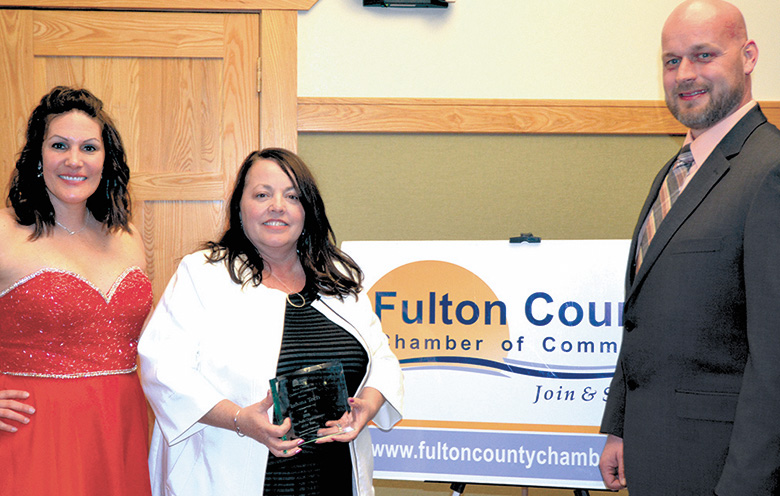 Warsaw
Indiana Tech's Warsaw campus received the Fulton County Chamber of Commerce Non-Profit Organization of the Year award. Jeri Burkhart, assistant director of College of Professional Studies operations, received the award during the chamber's annual gala.