University Breaks Ground on Indiana Tech Warrior Park
An exciting new chapter for Indiana Tech athletics began Thursday, May 3, 2018, as the university broke ground on its Indiana Tech Warrior Park athletic complex on the former back nine of Fort Wayne's Donald Ross Golf Club. The university announced its intention to purchase the golf course in October 2017 and closed on the property on March 19.
The new facilities added during this $15 million project are expected to be ready for use by spring 2019. The facilities will include:
A softball stadium: The collegiate competition-level stadium will be lighted and have 350 seats, an artificial turf infield and outfield, batting cages and a digital scoreboard. The stadium will be available for Indiana Tech practices, games, collegiate conference tournaments and Fort Wayne-area high school and other tournaments.
A track and field complex: The 400-meter, eight-lane track will have a natural grass infield, sites for field events such as discus, shot put and hammer throw, and bleacher seating for 350 people. The complex will be able to host Indiana Tech practices and meets, collegiate conference and national meets, and community track and field events.
A multipurpose athletic building: The 25,000-square-foot building will contain space for wrestling home meets and practices; sports medicine, treatment and training rooms; men's and women's home and visitor locker rooms; two team meeting rooms; and a welcome center for Warrior Park visitors. The building also will contain coaching and administration offices, and a laundry and equipment room.
"Not only are we happy to provide top-notch athletic facilities for our student-athletes, we are excited about the additional opportunities this complex can bring," said Indiana Tech President Dr. Karl W. Einolf. "We can host national championships for track and field and softball, which would be huge for our university and our city."
Donald Ross Golf Club remains open to the public as a 9-hole course. The course will be used by Warrior golf teams as a practice facility and, potentially, for experiential learning opportunities for students.
Lisa D. Givan Named Associate Vice President for Diversity and Inclusion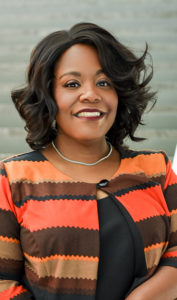 Indiana Tech named Lisa D. Givan as its associate vice president for diversity and inclusion and chief diversity officer in June. Ms. Givan was chosen by the university after a nationwide search to fill the new post, which was established in the spring of 2018 as part of Indiana Tech's strategic planning process.
Givan comes to Indiana Tech from Kent State University in Kent, Ohio, where she was associate director of diversity training. Prior to her work as associate director at Kent State, Givan also served the university from 2008 through 2015 in roles including core trainer and special assistant for the Diversity Education and Training Lab; coordinator of multicultural initiatives, and enrollment management and student services advisor; and coordinator of pre-college programs.
"Having a leader with Lisa Givan's experience and qualifications join our team will be a tremendous benefit to the entire Indiana Tech community," commented Dr. Dan Stoker, vice president of student affairs at Indiana Tech. "Our university has a long-standing commitment to diversity here on our main campus and across all of our regional campuses as well. This year, our strategic planning task force identified the continued development of a vibrant, inclusive and diverse culture connecting all of our campuses and locations as one of six priority goal areas for the years ahead. Lisa will play a vital role in working with our students, faculty, staff and the community at large in achieving this goal."
Givan earned her B.A. in Sociology/Corrections and her M.A. in Education from the University of Akron. She is a licensed qualified administrator of Intercultural Development Inventory (IDI) and holds a certificate in conflict management. Givan is also currently completing her studies through the Institute for Diversity Certification to become a certified diversity executive.
Dan Grigg Named as Vice President for Institutional Advancement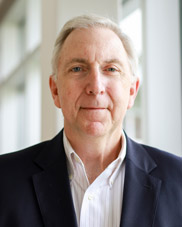 Indiana Tech named Dan G. Grigg as its vice president for institutional advancement in June. Mr. Grigg was chosen for the post after a nationwide search for the university's next advancement and alumni relations leader, which began in February 2018.
Grigg comes to Indiana Tech from Lindenwood University in St. Charles, Missouri, where he was vice president of development and alumni relations. Prior to his role as vice president at Lindenwood, Grigg served as executive director of advancement at Liberty Christian School in Argyle, Texas from 2010 through 2016, as assistant vice chancellor for regional development for Texas Christian University from 2004 through 2010, and as director of development and then assistant vice president of development at the University of North Texas from 1999 through 2004.
"On behalf of everyone at Indiana Tech, I'm pleased to welcome Dan Grigg as our new vice president for institutional advancement," commented Indiana Tech President Dr. Karl Einolf. "Dan has an impressive track record in raising funds to assist students in reaching their educational goals, and in teaming with alumni and friends of the institutions he's served to build support and engagement. As we implement our strategic plan with an eye towards our 100th anniversary in 2030, Dan's experience and abilities will play an important part in our success."
"I'm excited to join the Indiana Tech community," Grigg remarked. "The university has a long and proud history, and I'm looking forward to getting to know our alumni, students, faculty, staff and friends of Tech from around the country. Working together, we will all help Indiana Tech continue building bright futures for our students."
Grigg earned his B.S. in Business Administration from the Daniels College of Business at the University of Denver and is a longtime member of the Council for Advancement and Support of Education (CASE), among other professional affiliations.
Board of Trustees Welcomes New Members, Elects Officers
Indiana Tech's Board of Trustees welcomes six new members to the board with the start of the 2018-19 academic year. New trustees include:
Jeffrey A. Benzing, Senior Community Investment Specialist for BAE Systems.
William Daugherty, CIMA®, Senior Vice President for The Capital Group Companies, Inc.
Dena M. Jacquay, Chief Human Resources Officer for Parkview Health.
Joseph Jordan, BSBA '89, President and Chief Executive Officer for the Boys and Girls Clubs of Fort Wayne.
Anthony Juliano, MBA '04, Vice President & General Manager for Asher Agency and President of Point Six Four Consulting and Training.
Rear Admiral David J. Nash, BSEE '65, P.E., F. SAME, U.S. Navy (Retired), and President of Sustainable Biofuels Solutions, LLC, Senior Vice President at MELE Associates, Inc., and President of Dave Nash and Associates.
At its May 2018 meeting, the board of trustees also elected officers for the 2018-19 year:
Chair:  Gregg C. Sengstack, Chairman, President and Chief Executive Officer of Franklin Electric Co., Inc.
Vice Chair: Richard "Dick" J. Schul, BSME '69, Retired Group Vice President of Emerson Electric and consultant for Emerson Climate Technologies.
Secretary: Cheri A. Becker, BSHSM '94, Vice President of Investor Services and Programs at Greater Fort Wayne, Inc.
During the May meeting, the board also recognized the dedicated service of several trustees completing their board service as of June 30, 2018:
Janet C. Chrzan, board member 2008-2018, board chair 2012-2018. Retired Chief Financial Officer of Lincoln Financial Group, and President of Vision Management Consulting.
Kevin B. Faus, BSBA '09, board member 2015-2018. Founder and President of Kevin Faus Agency of American Family Insurance.
H. Robert "Bob" Gill, BSELE '60, board member 2009-2018. Venture capital and private equity consultant, principal with the Topaz Group consulting services company.
More information about the Indiana Tech Board of Trustees and individual members can be found on the Indiana Tech website.
Indiana Tech Becomes a Preferred Education Provider of Indiana State Police
On July 17, Indiana Tech president Karl W. Einolf, Ph.D., and Indiana State Police superintendent Douglas G. Carter signed an agreement that made Indiana Tech a preferred education partner of the Indiana State Police.
As the primary tenet of the agreement, Indiana Tech will provide corporate scholarships to current and former Indiana State Police troopers, current and former ISP staff members and all spouses who wish to take undergraduate and graduate classes through the university's College of Professional Studies.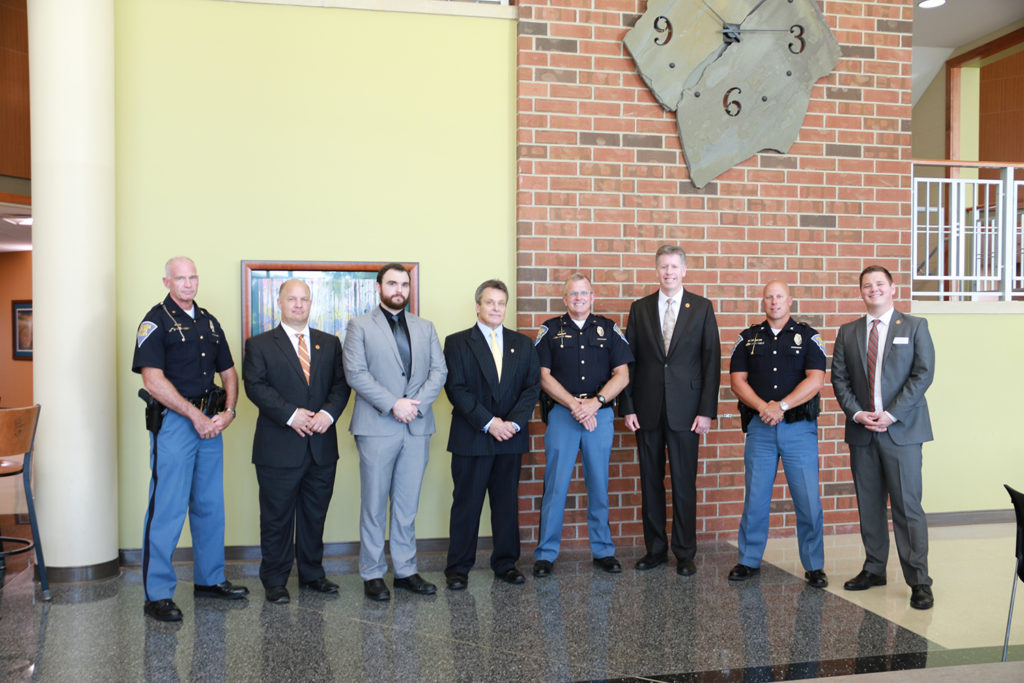 "Indiana Tech is pleased to partner with the Indiana State Police to benefit the men and women who work so hard to protect and serve our state," said President Einolf. "Our degree offerings are well-suited to helping them advance in their careers, and to continue serving our state with the highest levels of professionalism, innovation and effectiveness. Everyone at our university looks forward to helping them pursue their educational goals and reach their greatest potential­."
"What an exciting opportunity for the entire Indiana State Police family to start or advance their higher education desires in an affordable fashion with a quality institution," said Indiana State Police superintendent Douglas G. Carter. "Words do not adequately express my appreciation to President Einolf and Indiana State Police Training Division commander Major Danny Price for crafting this educational opportunity, not only for all department members, but their spouses as well. It's truly remarkable."
Eligible participants will receive a scholarship to help make tuition even more affordable while pursuing their degree. In addition, current or retired troopers who wish to pursue a Bachelor of Science in Criminal Justice will receive credit for their academy training, making the path toward their degree shorter.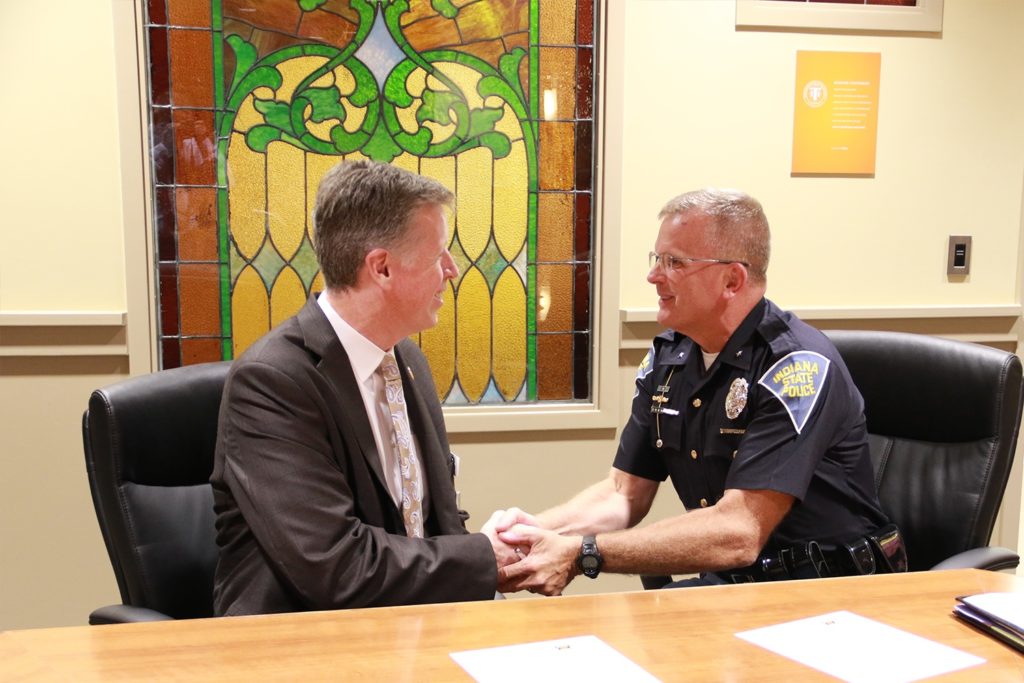 Slatton Recognized at SVA NatCon2018
Indiana Tech military and veteran recruiting specialist Aaron Slatton was a top 10 finalist for Student Veteran of the Year at the Student Veterans of America National Conference (NatCon) in San Antonio.
NatCon is the largest annual gathering of student veterans, advocates, thought-leaders, stakeholders and supporters in higher education in the world.
As a top 10 finalist, Slatton was invited to speak on the United States Department of Veteran Affairs podcast called Borne the Battle. Click on the link below to hear the podcast. He was also invited to kick off the final day of the conference by introducing Bob McDonald, 8th Secretary of the U.S. Department of Veterans Affairs and former chairman, president and CEO of Proctor and Gamble.
www.blogs.va.gov/VAntage/44287/student-veteran-year-finalists-aaron-slatton-kirsten-battocchio
Tech to Host Paralympic Qualifying Events in 2019
Fort Wayne will host 2019's International Blind Sports Federation Paralympic qualifying competition in goalball and judo at Turnstone, Indiana Tech and the Grand Wayne Center. The event, which will run from June 30 to July 10, will give athletes with visual impairments the opportunity to go to Tokyo for the 2020 Paralympic Games.