Degrees of Success
Saturday, May 12, 2018, was a day to remember for the nearly 950 Indiana Tech graduates who took part in Indiana Tech's 97th commencement ceremony at Allen County War Memorial Coliseum. They were joined by Indiana Tech faculty, staff, alumni and thousands of family and friends, who cheered them on as they received their college degrees.
2018 Commencement Ceremony
Total Graduates
1,391 Graduates
949 Attended
Home Away from Home
170 international graduates
462 graduates outside of Indiana
Beyond the Classroom
195 graduates are scholar athletes
Degree Types
1,176 Undergrads
208 Master's
7 Ph.D.
Perfect 4.0 GPA
34 Undergraduates
16 Master's graduates
2 Ph.D. graduates
Military
52 graduates are veterans or members of the military
The Rev. Charles Harrison of Indianapolis, who is the senior pastor of Barnes United Methodist Church and president of the board of the Indianapolis Ten Point Coalition, served as commencement speaker. Rev. Harrison shared his inspiring story of working with community members, faith leaders and civic leaders to help reduce violence and build hope and brighter futures for youth in Indianapolis. He encouraged every Indiana Tech graduate to serve those in need as they work towards achieving their goals and dreams. After his address, Rev. Harrison was presented with an honorary degree from Indiana Tech by the chair of Tech's board of trustees, Janet Chrzan.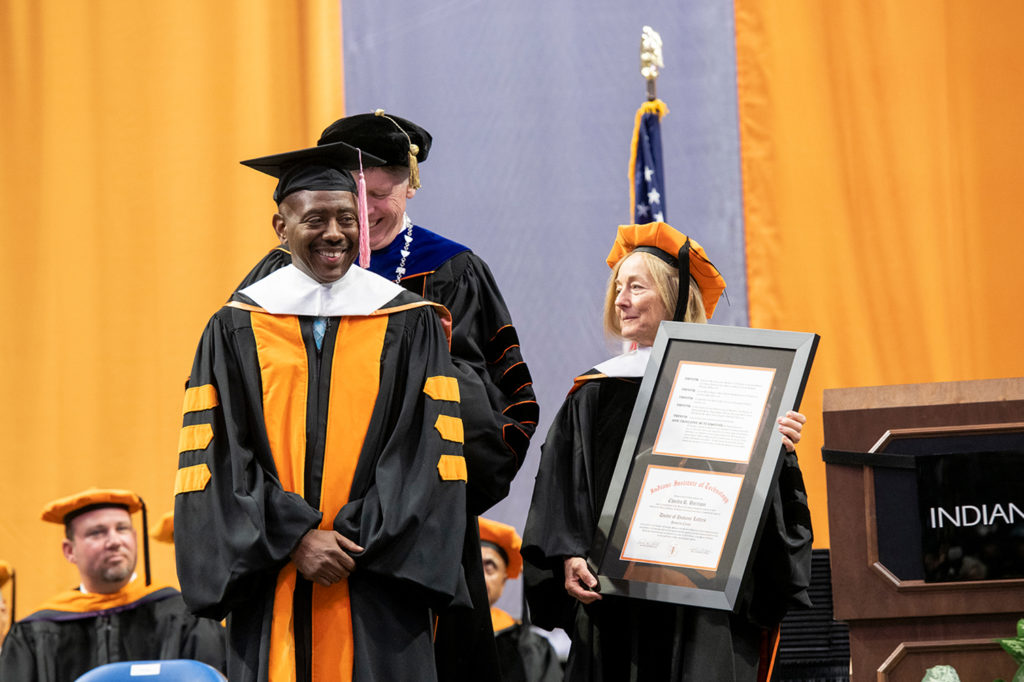 Ms. Chrzan was herself presented with an honorary doctorate from the board, in recognition of her distinguished service on the board. With her term ending on June 30, 2018, the board recognized her years of dedication to Indiana Tech, including serving from 2012 through 2018 as the board chair. Ms. Chrzan joined the board of trustees in 2008, and played an essential role in the sustained growth of the university in the years since.
A newly established honor was also presented at this year's commencement. The President's Medal, created by Indiana Tech President Karl Einolf to recognize individuals who have provided outstanding service and leadership to Indiana Tech, was presented to H. Robert "Bob" Gill, Jr., BSELE '60. Mr. Gill served on the Indiana Tech board of trustees from 2009 through 2018, and, along with his late wife, Lois, established the H. Robert and Lois Gill Scholarship to assist deserving students in earning their college degrees. In 2018, Mr. Gill expanded the scholarship to include Indiana Tech students seeking to continue their studies at the graduate level at the university.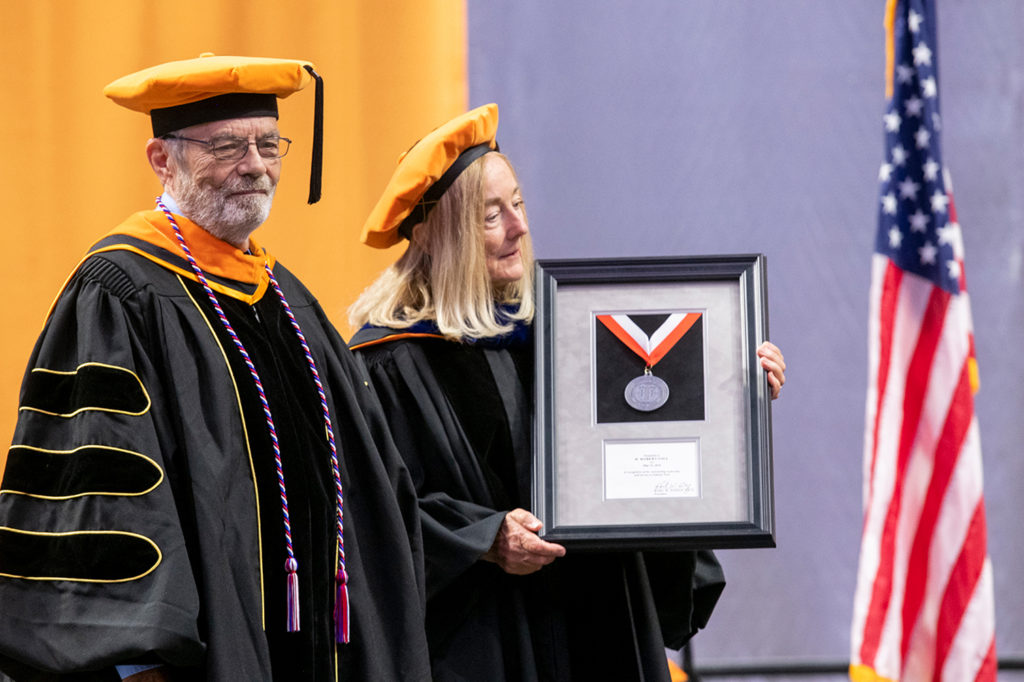 Mathematics professor Jerome Heaven was recognized with a special honor during the commencement ceremony: Faculty of the Year award winner. Each year, a committee of students from the traditional undergraduate and College of Professional Studies programs choose the Faculty of the Year winner from a slate of nominees recommended by students. Award winners exemplify excellence in teaching through in-depth knowledge of their discipline; providing opportunities for growth and learning to students; building strong relationships with students and colleagues; holding high expectations for students; and helping them achieve their fullest potential, among other qualities.
Commencement day concluded with a special performance of the Indiana Tech alma mater by current programming and conference events coordinator and alumDarius Darling. In the fall of 2017, Mr. Darling and President Einolf worked to update the musical arrangement of the alma mater in advance of the presidential inauguration ceremony in December, with the goal of making the alma mater easier for people to sing. To hear the updated alma mater, watch the video of Darling and President Einolf discussing their collaboration.