With another school year fast approaching and Homecoming 2018 not too far behind, we get a little nostalgic here at Indiana Tech Magazine. And, we're suckers for history, too. So, when we found some photos of beautiful brick buildings from our university's historic past, we thought this would be an excellent way to get you, our readers, to share your stories about these long-gone and majestic edifices from Indiana Tech's yesteryear.
Help us out, please. What are your favorite memories from these buildings? Crull and Sihler were dorms—did you make any lifelong friendships from your time there? Schick and Hanser were academic buildings—was one of them a crucial launching pad for your career? Please share your stories with Lauren Zuber, director of alumni relations, at LAZuber@IndianaTech.edu.
From Our Previous Issue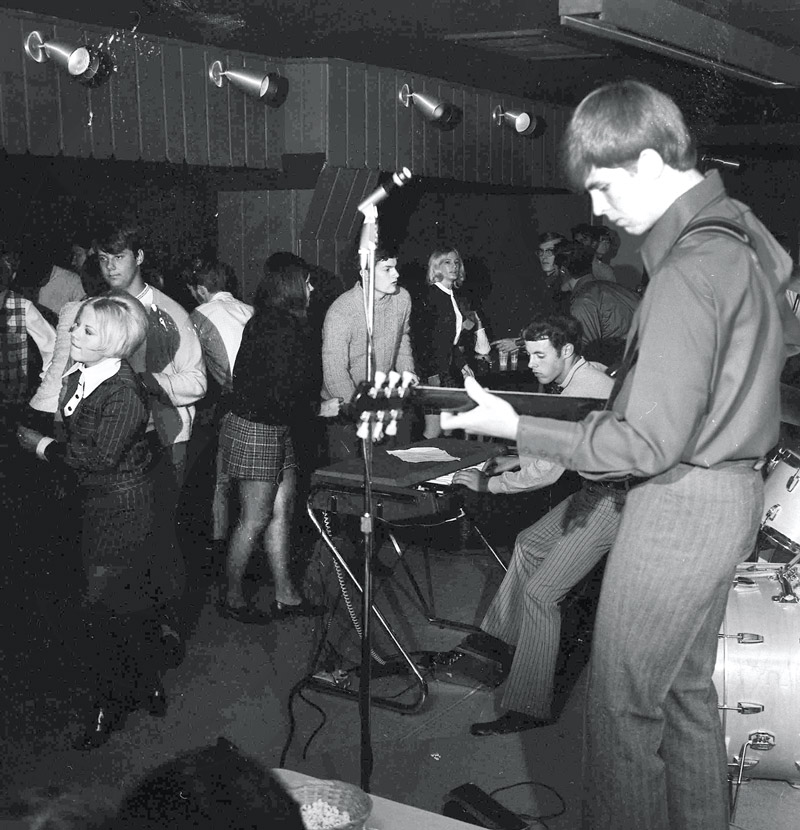 Indiana Tech Magazine asked its readers to help us fill in the blanks about The Cove, a "nightclub" that was operated by students on the Indiana Tech campus. The photo above was found in the Sept. 22, 1969, issue of the Fort Wayne Journal Gazette. Three nights earlier, The Cove enjoyed its opening night with the group Blue Agony rocking the stage from 9 p.m. to 1 a.m. Aside from what was in the article, we didn't get much assistance from Indiana Tech Magazine's usually helpful readers. It just goes to show you can't win them all.
Robert J. Smith, BSME '72, did corroborate that The Cove existed when he wrote to director of alumni relations, Lauren Zuber:
The Cove was located in the basement level of Sihler Hall. The building was a dorm when I started at Tech in the fall of 1966. It later became a faculty office building.
According to the 1969 Journal Gazette article, The Cove was the brainchild of student Ken Paige and a group of friends who wanted to create a place where college-age students—from Tech and other local colleges—could congregate and dance. The basement of Sihler Hall proved to be just the place they were looking for.
After eight weeks work, The Cove was ready for business. Booths and tables were installed, a stage was erected, the ceiling was lowered and lighting was installed that would create a night club-type atmosphere.
The Cove was decorated based on Ken's tropical island vision. Initially, he wanted the floor to be covered with sand until he realized how difficult it would have been to keep it clean.
Student Don Raybould managed The Cove, while classmate Roger Shapley was the club's treasurer. Students Clay Wood, Steve Bush, Tom Shaw and Paul Selinsky were members of the board which oversaw the operation of the club. Bob Wilmer and Larry Flick, also students, helped with construction. If you know any of these gentlemen, please let them know we are still trying to learn more about The Cove.