Indiana Tech strives to prepare students for a smooth transition into to their chosen fields right after graduation. For Jan Schilling (BSME 1969), Indiana Tech's career-focused approach to education armed him with the skills and foundational knowledge he needed to achieve a prolific and innovative engineering career.
As a high school student in Ohio, Jan knew two things: he was strong in mathematics and he wanted to go to college. One of his teachers gave him an Indiana Tech brochure and a gentle nudge. He applied and soon became a first-generation college student, adjusting to a place that felt worlds away from his high school graduating class of just 44 students.
After getting a few classes under his belt, Jan established his routine at Indiana Tech and embraced a mindset that would forever change the way he looked at his education. Instead of thinking about each class as an individual challenge that he needed to work through and pass, he looked at the big picture and thought about how what he was learning would lay the groundwork for his future as an engineer.
"I didn't have the mindset of 'I've just got to pass.' Instead, it was, 'I've got to learn something from this.' " Jan said.
He fine-tuned his technical engineering skills at Tech and graduated in 1969. From there, Jan started a career at General Electric Aviation in Evendale, Ohio, and immersed himself into jet engine technology. Early on, he dedicated himself to learning everything there was to know about the specific part of the engine he was working on. Once he mastered that area, he moved on to the next. He was meticulous and his desire to learn was insatiable, and it made him a leading global expert in many areas of engine design, development and manufacturing.
"It is about understanding how the engine works from front to back, not only from mechanical design, but aerodynamics, acoustics, part-life methodology, manufacturing, development testing, field performance, customer requirement and FAA certification standards, just to name a few," Jan said. "You have to dig in and figure it out yourself, then be able to put all the pieces together."
One day, 30 years into his career, he was asked to lead the engineering team to design, develop and certify the most powerful commercial jet engine in the world, the GE90-115B, which propelled the growth version of Boeing's 777-300ER aircraft.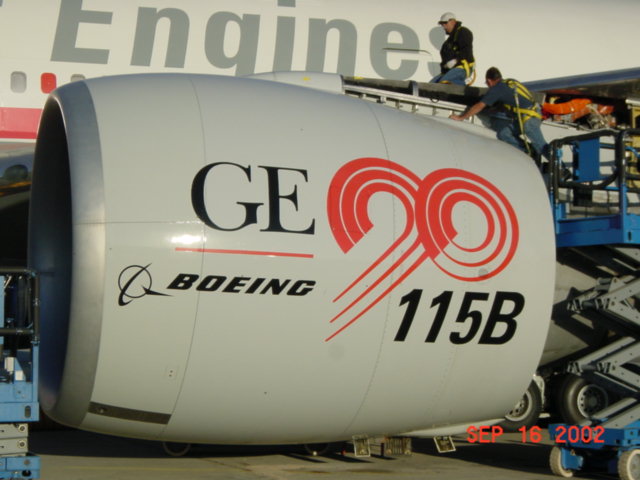 "It's a thrill to get on a plane with an engine that you were the engineering manager for and feel confident in that engine," Jan said.
In 2003, Jan was named chief engineer and general manager of GE Aviation, a position he held until his retirement in 2014. In 2013, he was inducted into the National Academy of Engineering for his accomplishments in advancing technology for modern turbofan engines. He has more than 50 patents on file.
A firm believer in the power of learning, Jan is eager to share his knowledge with the next generation, and Indiana Tech students have been lucky to learn from him during his visits back to campus.
In April 2018, he gave a presentation about the engines that powered US Airways Flight 1549 on Jan. 15, 2009. That flight famously culminated in pilot Chesley "Sully" Sullenberger landing the plane on the Hudson River, saving all 155 people on board. After the engines were pulled from the river, the National Transportation Safety Board requested that GE tear down the GE/SNECMA engines. Jan was chief engineer for GE Aviation at that time, with part of his responsibility being flight safety. His visit to campus also inspired a group of engineering students to build its own jet engine for a senior project. Jan exchanged emails and met with the students on campus at the end of 2018 to help them scope their project.
Jan's support of Indiana Tech students doesn't stop with campus visits to share stories and experiences. Recently, he worked with Indiana Tech's Office of Institutional Advancement to establish a student scholarship in his name. This fall, he is looking forward to being back on campus to celebrate his 50th class reunion during Homecoming 2019 weekend.
Alumni involvement can make a world of difference in the lives of our students. Your guidance and mentorship are important, as is the example you set. You give our students something to aspire to. If you are an Indiana Tech alum and you would like to get more involved in the university, or attend Homecoming 2019 and reconnect with old friends, please reach out to alumni@indianatech.edu.