Project management programs recognized by the Project Management Institute
Indiana Tech's project management program has been recognized by the Project Management Institute as a Registered Education Provider (R.E.P.) through April 30, 2020.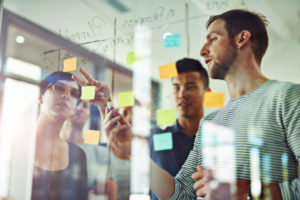 The Project Management Institute (PMI), founded in 1969, is the world's leading not-for-profit professional membership association for the project, program and portfolio management profession. Organizations PMI recognizes as R.E.P.s are approved to offer training in project management and issue professional development units (PDUs) to meet the continuing education requirements needed by PMI credential holders. To earn the R.E.P. designation, Indiana Tech needed to meet or exceed PMI's rigorous quality criteria for course content, instructor qualification and instructional design.
In response to an increasing need for project managers in the workforce, Indiana Tech launched two educational programs for project management in November 2018: a graduate certificate and a Master of Business Administration concentrating in project management. According to PMI's 2017 Project Management Salary Survey, the average salary for a product manager in the United States is $112,000.
"Quality project managers are highly sought after by an array of today's employers, and Indiana Tech wants to prepare for them skilled professionals who are ready to hit the ground running," said Dr. Kathleen Watland, dean of Indiana Tech's College of Business. "This recognition from the Project Management Institute validates that our program provides our students with the necessary knowledge, skills and experiences to be successful in the industry."
Learn more about Indiana Tech's graduate certificate in project management and MBA in project management.
FMM students volunteer for KMAC Couture
In April, Kayla Crecelius, assistant professor of marketing and management, and Heidi Miller, instructor of business, took 10 fashion marketing and management students to Louisville, Kentucky, to volunteer for the KMAC Museum's 7th Annual KMAC Couture runway show.
The KMAC Museum is a contemporary art museum located in historic downtown Louisville. Each April, the museum hosts KMAC Couture, a wearable art runway show that is the largest fundraiser for the museum. The event attracts 750 guests every year and gives them a unique way to experience the museum by featuring and supporting emerging and established artists, costumers, designers and milliners and the extraordinary presentation of original couture pieces of wearable art and conceptual fashion designs.
During the event, students helped museum staff set up the runway tent and chairs, set up tables and décor in the pre-show area, coordinate artists and models for hair and makeup, seat attendees prior to the show and clean up and tear down following the show.
"The staff and coordinators of the event were very impressed with our students' work ethic and determination," professor Crecelius said. "If fact, the event coordinators have already invited us back next year, and asked that we try to arrive a day earlier to assist with more areas of the show.
"The students all gained invaluable experience in putting on a show of this magnitude, and many students made contacts with both guests and museum staff for future opportunities."
Students who participated in the trip included Omar AlShammari, Bre'Ana Carey, Samantha Carter, Preosha Crawford, Jade Gipson, Heaven Harris, Jalynn King, Jacey McLaughlin, Emily Oler and Carlos Stephen.
HR students immerse themselves in SHRM experience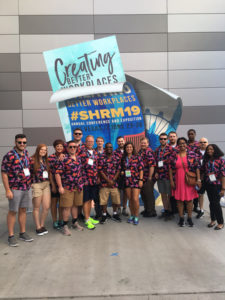 When Dr. Jeffrey Walls attended his first Society for Human Resource Management Annual Conference in 1990, it was life-changing for a business professor who had recently been tasked by then-president Donald Andorfer with creating a top-notch human resources education program.
"I experienced how impactful the annual conference could be for students from an educational and a networking perspective, so I asked President Andorfer if I could take a group of students to a future conference. He let me do it for the 1993 conference in Washington, D.C. He said, 'I'm going to approve this this one time because I don't think you're going to get students to go. And if you do, I don't think you'll get students to go back a second year,' " Dr. Walls said.
Indiana Tech's professor of business and lead of its HR program hasn't missed taking a group of students to an annual conference since. In fact, 12 Warriors joined him in June on his 26th straight annual conference, which was held in Las Vegas.
SHRM is considered the industry leader in HR professional development and is the world's largest HR membership organization. According to the organization, there is no better place for HR professional development than at a SHRM annual conference. And by several student accounts, the event lives up to the hype:
"Attending SHRM was one of the best motivational and inspirational conferences I've been to yet! As a current HR major, this conference had over 20,000 networking connections, from companies to other current HR students to HR organizational leaders and role models! This experience opened my eyes to dive deeper into the HR field, ranging from employee engagement to HR daily responsibilities to metrics that matter to human analytics and to new organizational implementations. It was an amazing conference to be a part of and I can't wait to attend next year!"—Emily Martin, Class of 2020
"SHRM is a great opportunity for students to get hands-on, face-to-face knowledge of HR from actual HR representatives. You learn material here at SHRM that you won't learn from a textbook because it's real-life experience. You also get to meet new people and network yourself with other companies to gain opportunities for internships or future workplaces."—Erique Early, B.S. in Business Administration, 2018; expects to complete his MBA in 2019
"SHRM was more impactful than what most people think. It's all about the relationships you create here because people that you see here, even just once a year, you make friends with for a lifetime; and you make positive changes that impact your workplace for the rest of your life. So, even something as simple as incorporating people analytics into my workplace is going to change the entire way we look at the data and the entire way we look at compensation for next year. I'd say 100 percent worth the trip!"—Grace Dusseau, MBA, 2018
"The 2019 SHRM conference has made an impact on so many students including myself. Most students coming into this conference already had an idea about what HR entails. Fortunately for me, I came in with a clear mind, willing to learn anything I could to explore different options to figure out which career path I want to choose. After sitting through some sessions, I learned that HR is so much more than just solving conflict and setting up new hires with their jobs. It involves coordination, planning and decisions that could either hurt or help the company in any way. After attending this conference I plan on achieving my MBA in HR. This conference has given me so much to look forward to in life and I value every second that I've been fortunate enough to learn from these experienced professionals."—Nick Trefry, Class of 2020
In other news related to Indiana Tech's HR department, the university's SHRM Student Chapter was recognized by the organization with a 2018-19 Superior Merit Award. The annual Superior Merit Award program recognizes chapters for providing superior growth and development opportunities to its student chapter members. Indiana Tech's student SHRM chapter, which is the largest student organization on campus, has earned a Superior Merit Award every year since 1998.
Two volunteer for VITA program
Two College of Business students—sophomore Andrew Robert (accounting) and senior Josiah Maugel (financial services)—volunteered their time and expertise in the spring to the Volunteer Income Tax Assistance program. Through the VITA program, low-income families and individuals can get free assistance with preparing their taxes. Andrew and Josiah were certified by the IRS to prepare taxes after receiving training and passing a series of exams.
2015 grad recognized for making her mark on the sports world
For a handful of days in July, 2015 graduate Chauntiel Smith was the hottest thing in Fort Wayne media.
Chauntiel, who graduated from Indiana Tech with a Bachelor of Science in Business Administration concentrating in sports management, is the founder and owner of Capture Sports Agency, a firm that works with athletes on contract negotiations, financial planning, community engagement and public speaking opportunities. Capture is turning heads globally and Chauntiel is earning praise for making a name for herself in a traditionally male-dominated field—something she attributes to professor Craig Dyer's sports management tutelage at Tech.
Learn about Chauntiel's success with Capture, thanks to coverage by Input Fort Wayne, Fort Wayne Ink Spot and WPTA 21.
Marketing students come up just short in bid to present to Acura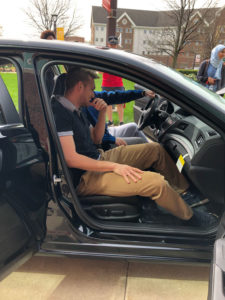 Five students from Dr. Staci Lugar Brettin's BA 3500 Advertising class—junior Anna Hartman; seniors Dylan Campbell, Lawrence Carter Jr. and James Ohms; and 2019 graduate Skyler Noll—accepted the Acura ILX Marketing Challenge in April for a chance to present its marketing campaign to Acura senior leadership in Torrance, California.
The group had its initial creative brief make it through the first cut, and for that, the group received a $2,000 stipend from Acura to launch its campaign on campus. However, the group was not one of the three chosen to present in Torrance.
Dean of the College of Business, Dr. Kathleen Watland, told the group, "Regardless of the outcome, you are all winners. You learned a great deal and represented our university in an innovative and professional way. Your talent and drive are evident. I am so proud of all of you! Thank you for your commitment to this challenge."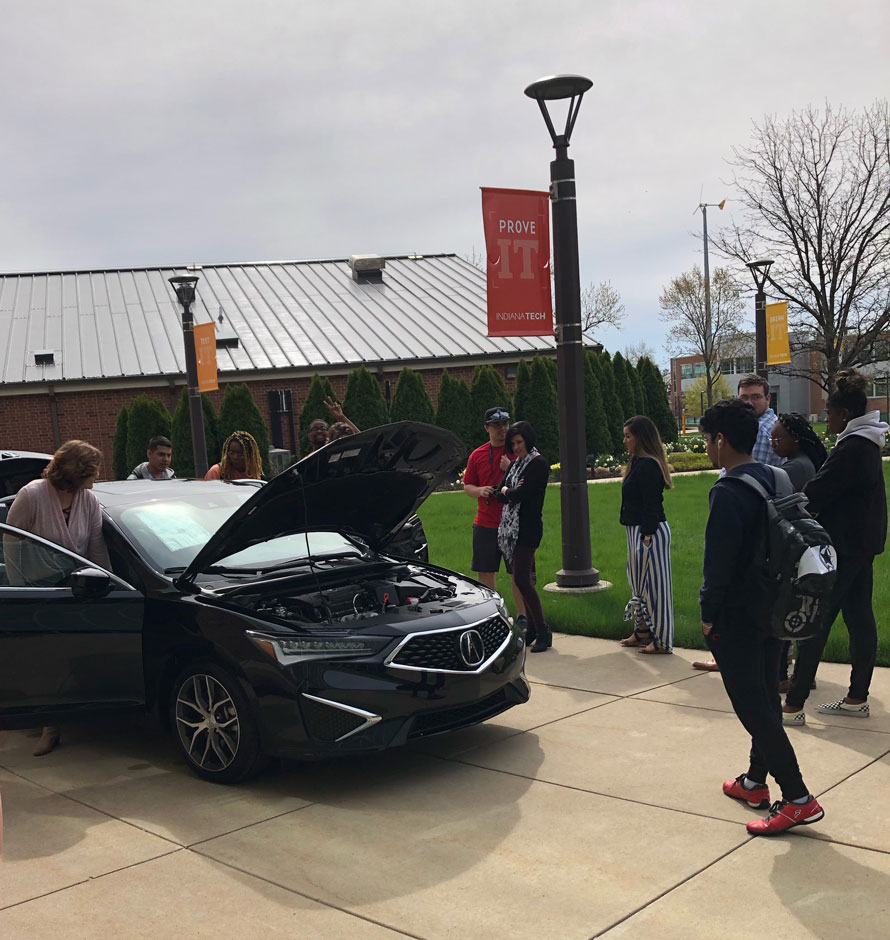 Acura's challenge asked participants to:
Develop and execute an integrated marketing communications plan to increase brand awareness, consideration and aspirational nature of Acura through the promotion of the redesigned 2019 Acura ILX.
Increase perception and emotional appeal of Acura as a brand younger audiences aspire to own, and the ILX as a car they would like to be seen driving.
Increase market share among first-time luxury car buyers.
Indiana Tech's team hosted an on-campus "matchmaking" event, during which students, faculty and staff were able to check out the Acura ILX, pick up a free t-shirt and other giveaways, and see if the Acura ILX was their "perfect match."