Warren Ends Illustrious Career with Awards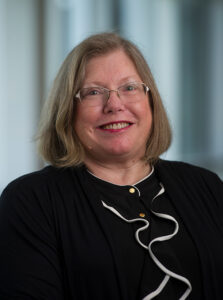 Debbie Warren has lived a career path that many dream of, but only few end up on–from starting her career in college athletics as an administrator with alma mater, the University of Mount Union, in 1980, to a 16-year career at the University of Alabama Department of Athletics, where she rose to the ranks of a senior associate director of athletics, to multiple stops as the director of athletics across all levels of collegiate athletics, including the last five of her 40-year career at Indiana Tech.
Warren has been instrumental in every athletics department that she has been a member of, and the last five years at Indiana Tech have been among the most fruitful in terms of national recognition. In March, she was one of four directors of athletics in the NAIA, and one of just 28 across all levels of college athletics, to be named a recipient of the National Association of Collegiate Directors of Athletics (NACDA) Under Armour AD of the Year (ADOY) Award. Warren is the first Indiana Tech AD to garner the national award and was set to be recognized at the NACDA Annual Convention in Las Vegas, Nevada, in June before the COVID-19 pandemic caused its cancellation.
In May, she was honored by the Wolverine-Hoosier Athletic Conference (WHAC) as its recipient of the 2019-20 Terry Bocian Athletics Director of the Year, presented by Kuhn Specialty Flooring, at the conference's annual spring meetings that took place virtually. She became the first female AD to win the annual WHAC award and just the second winner from Indiana Tech.
Indiana Tech President Dr. Karl W. Einolf tabbed Warren as the recipient of the 2019-20 President's Medal, given annually in honor of one's service to the community, at the university's Celebration of Service event in May.
Warren was a key figure in taking the Department of Athletics to new heights upon arriving in the Summit City in July 2015, as six teams won national championships, 19 student-athletes claimed individual national titles, over 30 teams qualified for postseason play and 300-plus student-athletes garnered All-America Team accolades. Tech won the Fred Smith WHAC All-Sports Trophy three years running prior to the cancellation of the 2020 spring sports seasons due to COVID-19, and had finished in the top-10 of the Learfield IMG Directors' Cup Standings four years running, cementing the Warriors place as a powerhouse at the conference, regional and national levels.
Academically, Tech finished with a 3.0 grade-point average or better every year under Warren with over 300 student-athletes earning NAIA Scholar-Athlete status, 69 programs achieving NAIA Scholar-Team honors and 23 individuals garnering a spot on prestigious CoSIDA Academic All-America Teams over the last five years.
Student-Athletes Earn Awards
While the Indiana Tech Department of Athletics had its normal routine put on hold in mid-March with the cancellation of winter championships and spring sports seasons, several student-athletes and teams were recognized for their success both in the classroom and in the field of play, for the 2019-20 school year.
All-Americans:
DeAnn Kauffman (women's basketball)
Josh Kline (men's basketball)
Maryssa Carey (women's bowling)
Dawson Maier (men's bowling)
Jacob Balser (men's bowling)
Joel Holmberg (men's ice hockey)
College Sports Information Directors of America (CoSIDA) Academic All-Americans:
Landon Bloir (baseball)
Emily Martin (softball)
Jordan Reyes (men's lacrosse, at-large team)
Evan Schuster (men's lacrosse, at-large team)
Cecilia Heck (women's golf, at-large team)
Indiana Tech Student-Athlete Awards:
Hayashi (awarded to a senior who promotes a Warrior Pride attitude and excels in both academics and athletics; nominated by coaches and decided by athletics administration staff). The winners of the Hayashi Award were Jordan Reyes (men's lacrosse) and Rachel Bell (women's basketball).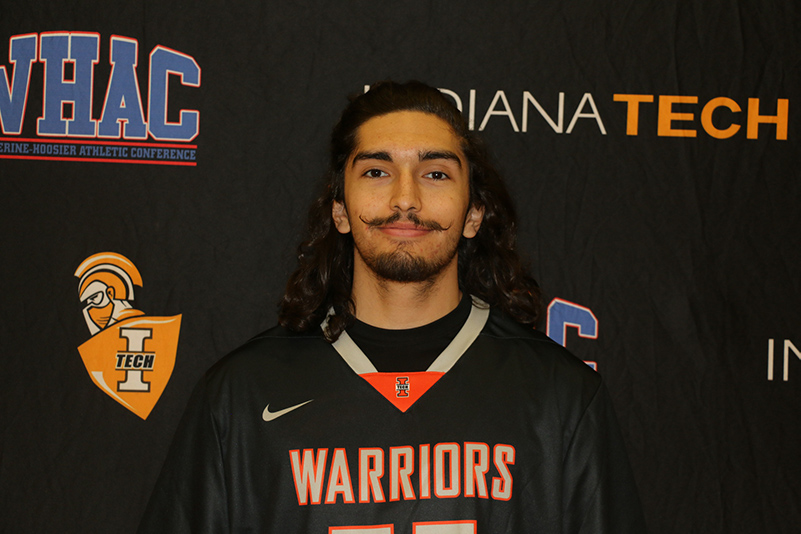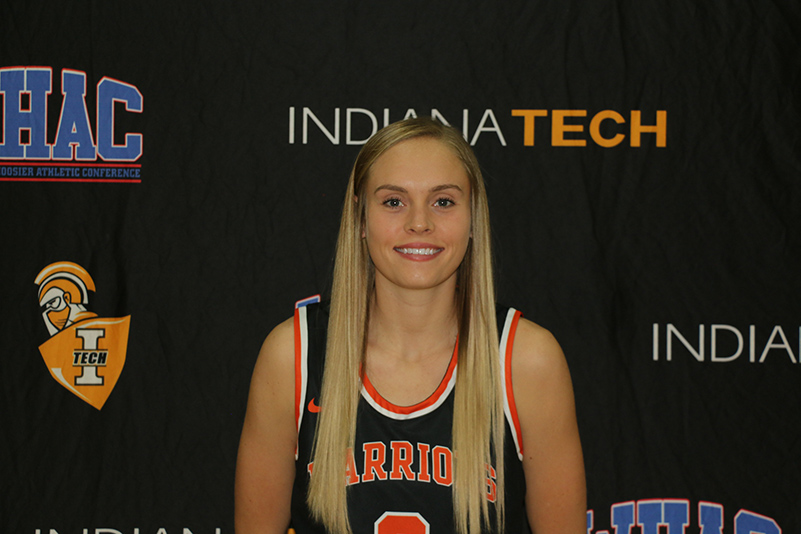 Scholar-Athlete of the Year (highest senior GPA combined with greatest athletic achievement). The winners of the Scholar-Athlete of the Year Award were Landon Bloir (baseball), DeAnn Kauffman (women's basketball) and Madeline MacDonald (women's volleyball).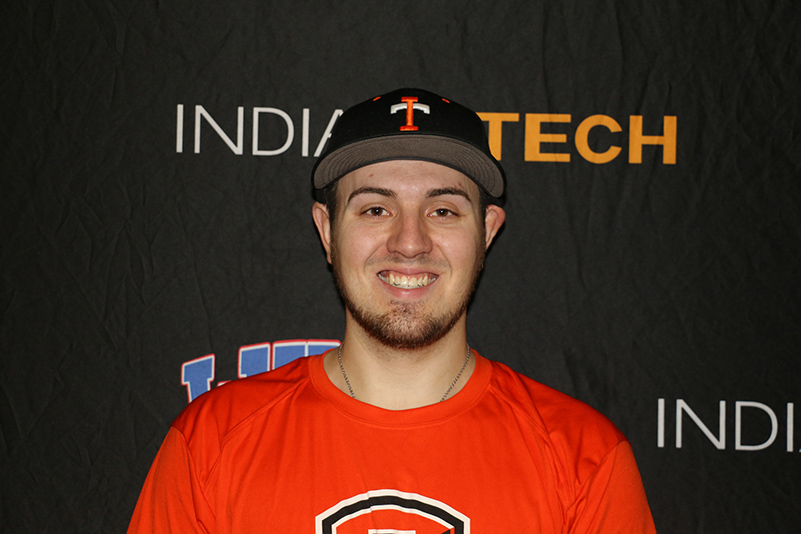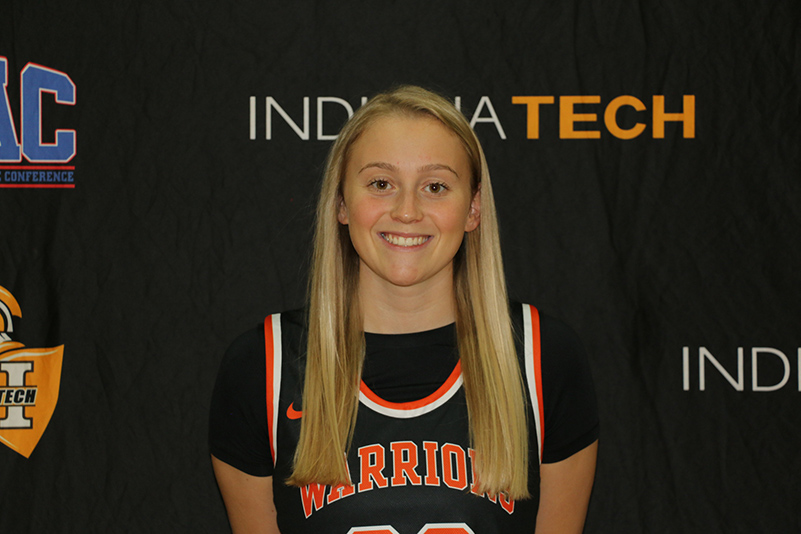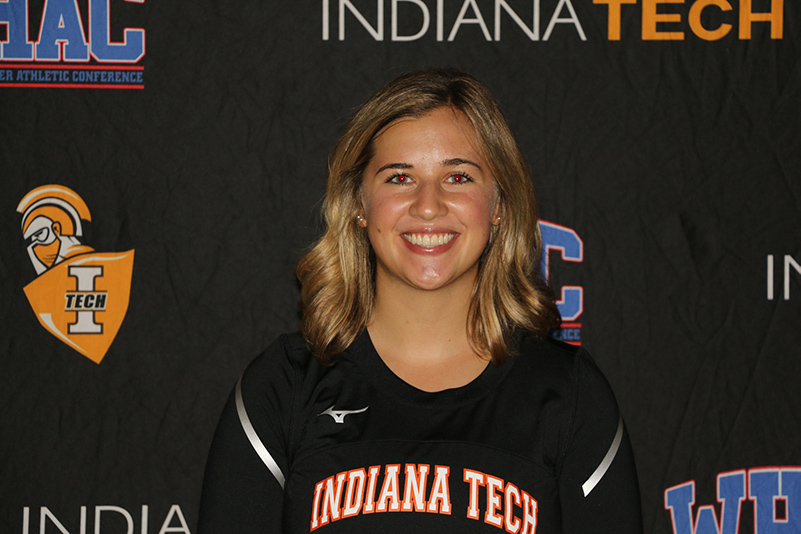 Ultimate Warrior (symbolizes the student-athlete you want on your team; the one who goes all out in every practice/game/match/race/round/competition/etc; if you had multiple of them on your team it would make you and your teammates better; nominated by each head coach). The Ultimate Warriors were:
Alex Coan (baseball)
Josh Kline (men's basketball)
Dawson Maier (men's bowling)
Jake Willison (men's cross country)
Danny Kimes (men's golf)
Cameron Wirick (men's ice hockey)
Joey Provost (men's lacrosse)
Noe Garcia (men's soccer)
Kudzai Toto (men's tennis)
Barthelemy Peter (men's track and field)
Joey Hermes (men's volleyball)
Eric Vermillion (men's wrestling)
Kelsey Robinson (softball)
Rachel Bell (women's basketball)
Briana Marquis (women's bowling)
Kara Kline (women's cross country)
Cecilia Heck (women's golf)
Anna Hartman (women's lacrosse)
Kayla Saffran (women's soccer)
Chloe Smithley (women's tennis)
Mariam Davis (women's track and field)
Jacey Blust (women's volleyball)
Chi Alpha Sigma: The following student-athletes were inducted into Chi Alpha Sigma, the academic fraternity for the National College Athlete Honor Society. Chi Alpha Sigma recognizes student-athletes who earn a varsity letter in at least one sport, achieve junior academic standing or higher after their fifth full-time semester, and maintain a cumulative GPA of at least 3.4.
Austin Alexander
Ashley Alvey
Maxwell Amoako
Jordan Aylward
Logan Baugher
Caitlin Beirne
Rachel Bell
Zachary Bennett
Angela Berwick
Danielle Blagojevic
Austin Blanton
Ryan Bliss
Landon Bloir
Joselyne Bobos
Pablo Bono Monreal
Martina Borges
Jacob Boris
Jakob Bowden
Nicholas Brandt
Jordyn Brooks
Scott Bubacz
Daniel Buell
Kayla Bunkowske
Kiersten Burke
Ashley Burnett
Michael Carney
Alexander Coan
Allison Cole
Emmett Coleman
Tiago Andre Da Silva Brito Neves
Angel De Jorge Romero-Camacho
Tyler DeJonge
Malte Dennert
Alivia Doyle
Martin Eckard
Ashlyn Fadley
Luiz Fialho de Oliveira
Daniel Gallardo Molina
Kendall Galloway
Karson Gardner
Cierra Gates
Jared Gernhardt
Matthew Gimson
Mallory Green
Zachary Green
Samantha Gromala
Andrew Hammond
Anna Hartman
Calista Helinski
Thomas Heniff
Payton Hertel
Alexis Hill
Justin Hindman
Morganne Holdreith
Kaitlyn Hope
Hadley Hopkins
Maxwel Huber
Nicholas Huffar
Kelsey Ivers
Jaimee Jaskie
Maxwell Jenkins
Maria Jimenez Coello
Charlie Jones
DeAnn Kauffman
Karsyn Kitchen
Ralph Knipper
Jaxon Koehl
Jack Koshko
Benjamin Lambert
Nicholas Lanham
William Lanman
Mary Leighton
Bryson Linenburg
Alexis Lombardo
Cody Loss
Makenna Luginbill
Dawson Maier
Taylor Marchan
Jack Marquardt
Briana Marquis
Emily Martin
Roberto Maspons Noboa
Jared Maxfield
Nathan McBroom
McKenna Mesclier
Damian Metz
Dominique Michelet
Hannah Middlebrooks
Dexter Miller
Paige Miller
Zin Min
Alex Mitchell
Austin Mitchell
Dametrea Mixon
Alexa Mobley
Jonel Morris
Raymond Morrison
Andrew Neller
Ellie Nelson
Olivia Niekamp
James Ohms
Reese Olden
Rylee Oliver
Madelyn Omo
Ryan O'Toole
Madison Park
Marissa Pease
Barthelemy Peter
Peyton Phillips
Leonardo Pires Seib Corso
Kyndall Pursley
Jaxson Rinkenberger
Andrew Roberts
George Roberts
Payton Robinson
Lucas Rodrigues Braga
Kristen Roe
Facundo Rondan
Alexandra Ross
Madison Rothenberger
Lily Rothert
Kayla Saffran
Ivan Safranic
Eileen Salisbury
Brandon Schmehl
Joshua Schmidt
Evan Schuster
Daniel Sender Safadi
Matthew Shapiro
Kim Siercks
Brandon Sink
Casey Smith
Renique Smith
Katelyn Smolucha
Abigail Spencer
Riley Stafford
Brunno Storani
Spencer Strobel
Sha'Londa Terry
Michael Tish
Timothy Topp
Pablo Torne
Emma Tuominen
Jamison Turk
Tehya Turner
Chandler Updike
Allyson Versluys
Nathanael Wertz
Hunter Williams
Jake Willison
Ayala Wilson
Cameron Wirick
Emma Wolfe
Za Wong
Christina Wynn
Ally Zenda
Kirklan Ziambao
Meet Mariah Linnett, Assistant Director of Sports Information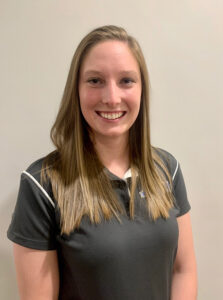 Mariah joined Sports Information Director Tyler Stevenson in the athletics communications office in July. She will help the five-year veteran SID with all aspects of Warrior sports information, including compiling statistical information at all home varsity events, maintaining the athletics website, www.indianatechwarriors.com, with rosters, schedules, records and other data, coordinating social media coverage and serving as a liaison to the media. Mariah comes to Indiana Tech following a two-year stint as athletics communications graduate assistant at Assumption College, an NCAA Division II institution in Worcester, Massachusetts, where she graduated with her MBA in May.
Originally from Greenwich, New York, Mariah graduated from Castleton University, an NCAA Division III school in Castleton, Vermont, in 2018 with a degree in sport management and was a student worker for the sports information department. A member of the Spartans field hockey and women's basketball teams during her four years, she received NFHCA Academic Squad and NAC All-Academic Team honors as a junior and senior.
Quick Q&A with Mariah
What would you be doing if you were not coaching/working in college athletics? – Being a stay-at-home dog mom.
Who would play you in a movie? – Blake Lively.
Best athletic moment? – Winning State in high school for softball in my sophomore year with my older sister who was a senior.
Who's coming to Fort Wayne with you? – Nick Scott (boyfriend) and Mookie (my dog).
What are you most looking forward to at Indiana Tech and/or Fort Wayne? – Exploring a new city and getting to know all of my coworkers and become part of the Warrior family.
Meet Scott Hicks, Indiana Tech's First Women's Ice Hockey Coach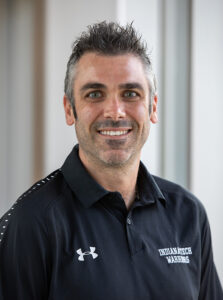 In May, the Indiana Tech Department of Athletics chose Scott Hicks to be the inaugural coach for the university's women's ice hockey program. Hicks has begun recruiting players for the team, which will begin competing in the 2021-22 season in the American Collegiate Hockey Association (ACHA), which is also the governing body for the men's ice hockey programs.
Scott comes to Fort Wayne following a successful decade at ACHA Division I powerhouse Miami University (Ohio), where he started the RedHawks program from scratch in 2011 and led the team to three ACHA Division I National Championships. Over his 10 years in Oxford, he compiled a 155-66-19 (W-L-OTL) record while taking his team to the national championship game four times and making six straight appearances in the national tournament semifinals.
He was named the ACHA National Coach of the Year in 2014 and 2018 while he earned Central Collegiate Women's Hockey Association (CCWHA) Coach of the Year honors in 2014, 2015 and 2020. Hicks has coached 17 ACHA All-Americans, two ACHA National Player of the Year winners and three ACHA National Tournament MVP recipients.
Hicks served as the vice president of the ACHA Women's Division and co-director of the ACHA National Tournament from 2014 through 2020; he was instrumental in the growth of the women's division. He has coached the USA Hockey World University Team three times (2015, 2017, 2019), winning a bronze medal at the 2017 World University Games and been involved with a number of USA Hockey camps over the last few years.
He graduated from Northern Kentucky University in 2008 with a degree in liberal arts.
Coach Hicks' Favorites

Song – Friends in Low Places, Garth Brooks
Movie – Mighty Ducks
Team – Detroit Red Wings
Coach – Bill Davidge
Athlete – Steve Yzerman
Animal – Dog
Board game – Risk
Vacation spot – Hilton Head Island
Restaurant – Dunkin Donuts coffee/El Rodeo
Kids' movie – Toy Story
Family activity – Golf
Women's Wrestling Program Finds a Conference Home
The women's wrestling team will embark on its first season in the 2020-21 year and will have a conference home in the Mid-South Conference, home to some of the best women's wrestling programs in the country. Being in a conference gives Indiana Tech the best option to qualify for the NAIA National Invitational and gives student-athletes the best possible experience.
Athletics Department Partners with Nike/BSN
One of the first moves for new Director of Athletics Jessie Biggs was to get a department-wide apparel deal for the 26 Warrior sports; an agreement was signed in early June with BSN Sports and NIKE to bring the swoosh to Tech Athletics. Read the full story on our athletics website.