McConnell found the right balance at Tech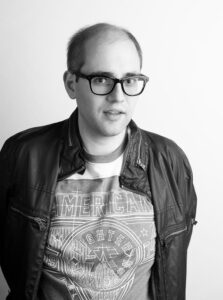 At the early age of 2, Zachary McConnell was diagnosed with Autism. Because of that, his life has brought him and his family many difficult battles, but with his adventurous insight and positive focus on the future, there's been nothing holding him back.
In his early years of education, Zachary's mother regularly fought to have him placed in traditional learning environments instead of the school's reduced-learning/special-education classrooms. In high school, he faced challenges from school administrations as they assigned an adult aid to be by his side at all times. While he eventually grew to have long-lasting and meaningful relationships with a couple of them, he wanted to stand on his own. He had the academic skills to do so; all he needed was a chance to prove to himself and teachers that he could.
Even during his first year of college at Anderson University, where he originally studied Computer Science and Fine Arts, and his brief time at Ivy Tech, Zachary struggled to find the right balance of an environment where he could be pushed appropriately in academics, supported in his unique processing and understanding of the world around him, and freedom to pursue the life he desired. Here at Indiana Tech, he was able to do all of those. And most importantly, he has been able to grow in countless ways because of it. "I succeeded here, I was given support."
Zachary's original academic plan did not take shape quite as he had initially planned. He recalls that his earliest dream job was to become a computer programmer.
"I always saw myself working for some big name computer company like Apple or Cisco."
But as things often do, this changed as he got into high school and college. His interests began to take shape into research and marketing fields, and he found satisfaction in the everyday opportunities to help make people happier. He was inspired by some of the most influential marketing icons in the industry such as the brains behind advertisements with the Coca-Cola polar bears and New Balance shoes.
After transferring all of his credits from Ivy Tech to Indiana Tech, he was worried that the "Ghost of Anderson," as he so eloquently put it, would follow him to Indiana Tech the same way it did to Ivy Tech.
Reflecting on life before his final academic transition, Zachary admitted, "I didn't do super well from that, but I remember thinking I can do just great at Indiana Tech with rules, safety and choosing to focus on what can go right."
Zachary found his home at Indiana Tech and was able to make a life for himself here. He saw this place, as many students do, as his home. He worked in Student Life, went to different events in Andorfer Commons, watched movies in the Magee, cheered on the basketball teams, attended lectures of guest speakers and regularly took advantage of disability services.
"The modern facilities, the close-knit community, the faculty and staff, the combination of online and classroom classes, and the general ease of getting around made it an incredibly attractive environment for me to want to be a part."
During his undergraduate work in Business Administration with a focus on Marketing, both Dr. Staci Lugar Brettin and Dr. Jeff Walls approached and encouraged him to enroll in the MBA program after he obtained his degree. At their recommendation, he did, and it provided a significant, yet rewarding challenge. "It was a lot of stress, balancing work and school, but it was a great experience. I had to learn how to control that stress so that I could be successful," reflected Zachary. Despite the challenges, he endured.
"One thing that I will say is that I definitely felt like I deserved a vacation after completing the program. I just kept telling myself the same lyrics from My Chemical Romance over and over and I repeated that 'I'm not afraid to keep living/I'm not afraid to walk this world alone' whenever necessary."
After a physically taxing position in retail and a stint with now-defunct House of Public Notice, he is working on a project-to-project basis with Ferguson Advertising and looks forward to pursuing a position as an editing copywriter.
"Make no mistake," he smiled cheerfully, "by the time someone reads this article, I will have taken a vacation!"
In light of all of that impending vacation planning, he sees that bright future coming as doors are opening ahead of him. And the keys to each of them? Those have been his determination, his motivation and his well-earned undergraduate and MBA degrees from Indiana Tech.
This story was written by Matt Brown, director of alumni relations for Indiana Tech.
Walls named faculty of the year for 2020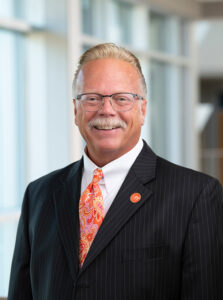 Dr. Jeffrey Walls, professor of business administration, earned Indiana Tech's 2020 Faculty of the Year award during the university's Celebration of Service Awards in May.
Nominees for this award are selected by students, and all nominations are reviewed by a committee of student leaders who make the final choice.
Students who nominated Dr. Walls said of the long-time Indiana Tech professor:
"He is dedicated to student success."
"He makes every effort to simulate an atmosphere similar to what students will encounter in the workplace."
"He goes above and beyond to assist students in their academic careers as well as their personal lives."
In addition, the words exemplary, supportive, always willing to help, encouraging, high expectations and mentor were used by several students who nominated Dr. Walls.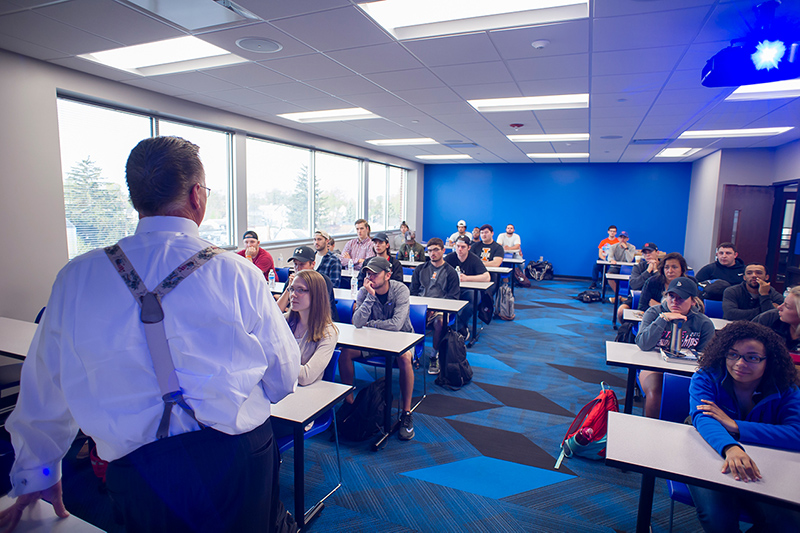 Tech's SHRM chapter earns prestigious honor
The Society for Human Resource Management (SHRM), the world's largest HR professional society representing 285,000 members in more than 165 countries, honored Indiana Tech's SHRM Student Chapter with a 2019-20 Superior Merit Award.
The annual Superior Merit Award program recognizes chapters for providing superior growth and development opportunities to its student chapter members. It began in 1972 to encourage student chapters to require ongoing excellence in the following areas:
Student chapter requirements
Chapter operations
Chapter programming and professional development of members
Support of the human resource profession
SHRM engagement
Indiana Tech's student SHRM chapter, which is the largest student organization on campus, has earned a Superior Merit Award every year since 1998. If you are interested in the human resources field and would like more information about degree options at Indiana Tech, visit the Human Resources program.
Three added to COB faculty
Dr. Jeff Bourgeois and Dr. Kevin Bottomley have joined Tech's Ph.D. in Global Leadership program as assistant professors. Dr. Bourgeois' courses will include Leadership in Times of Global Change, International Organizational Behavior & Culture, Global Leadership Development, Comparative Higher Education and The Contemporary College Student. Dr. Bottomley's coursework will focus on equipping Ph.D. students for all facets of research during their doctoral pursuit.
Dr. Margot Salas Geagon joined the university as an associate professor of business. Her areas of expertise are supply chain management, logistics, data analytics, operations research, finance, statistics, strategic management and research methods.