Major Zollner Center project creates innovative new home for STEM programs
Indiana Tech is undertaking a major expansion and renovation of the Zollner Engineering Center on main campus. The university will invest $21.5 million in the project, which will nearly double the current size of the facility and result in an all-new home for Indiana Tech's growing programs in engineering, computer sciences, cybersecurity, life sciences, technology and more.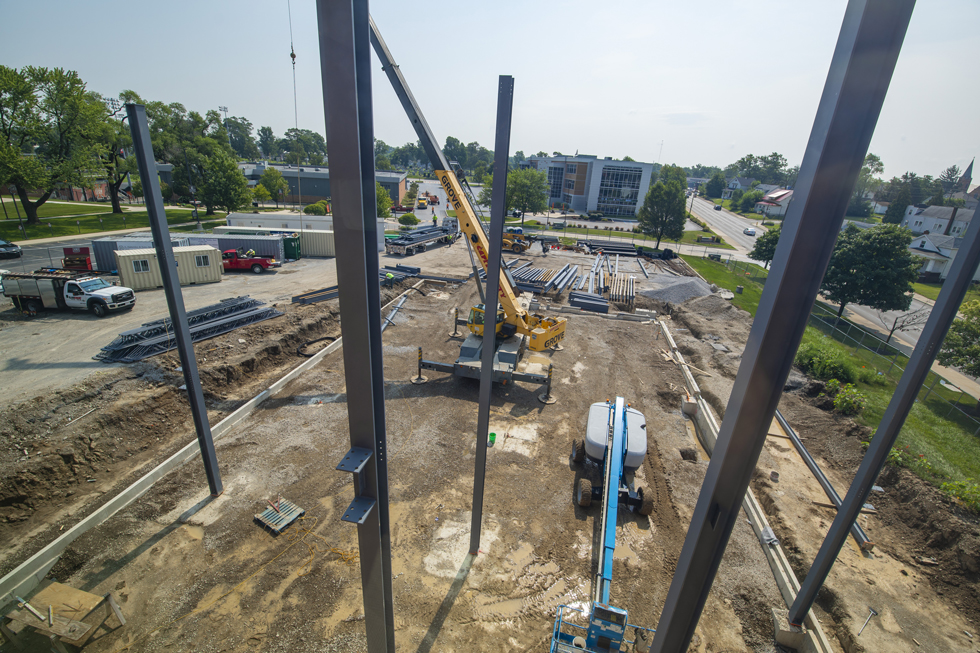 Construction began in May, with a public groundbreaking event featuring Indiana Tech alumni, members of the board of trustees and Fort Wayne Mayor Tom Henry. The first phase of the project will include the construction of a 30,000-square-foot addition to the east side of the current facility. The addition will be completed by August 2022. The next phase of the project will begin in May 2022 and include a complete renovation of the existing Zollner Center space, resulting in an all-new, 70,000-square-foot, three-floor facility that will be completed in the fall of 2023.
The new Zollner Engineering Center will provide a home for Indiana Tech's current, growing programs in engineering, computer sciences and life sciences. It will also provide new space for the introduction and growth of new programs that are part of the university's strategic plan, including an array of engineering technology programs, and those in areas such as computer science, robotics and life science.
"Programs centered on science, technology, engineering and mathematics have long been a core strength of our university," commented Indiana Tech president Karl Einolf. "We continue to see growth in these areas, and an ever-increasing demand for our talented and capable graduates in engineering, computer science, cybersecurity and more among regional and national employers. The new Zollner Center will provide our faculty and students with cutting-edge learning spaces, labs, equipment and so much more. It will also enable us to expand our collaborations with corporate partners, and create new programs that can be delivered effectively both in-person and online."
Key elements of the new facility will include:
28 specialized laboratory and collaboration spaces across three levels, including:

Ground level:

Manufacturing/Automation Lab
Materials/Solid Mechanics Lab
Biomedical Engineering Lab
Exercise Science Lab
Thermal Sciences Lab
Robotics Design Lab
Engineering Innovation Design Center
Engineering Design Workshop

First floor:

Digital Forensics Lab
Computer Science Lab
Computer Science Projects Lab
Software Engineering Lab
Power Controls Lab
Life Sciences Lab
Network Operations Center
Cybersecurity Operations Center
Data Center supporting computer science programs
3-D Design Lab
Physics Lab

Second Floor

Projects Lab
Circuits Lab – Electrical and Computer Engineering
Analytical/Organic Chemistry Lab
PLC Lab – Electrical Engineering
Chemistry Lab
CAD and Engineering Lab
Information Systems Lab
Cell and Molecular Biology Lab
Forensics and Microbiology Lab

Central computer lab with 24/7/365 access for students and faculty
37 faculty offices
Project learning and collaborative study spaces
Future growth space for new programs in health science fields, computer sciences, information technology
As part of the project, Indiana Tech will also renovate and expand the central quad area on its campus. The Zollner Engineering Center is located at what is currently the southeast corner of the quad. As part of this project, the quad will expand to the east, adding green space to central campus. Walkways on the existing quad will be reconfigured, and seating areas will be incorporated throughout. The quad renovation will further enhance the beauty of central campus, and encourage wider use of the green space there.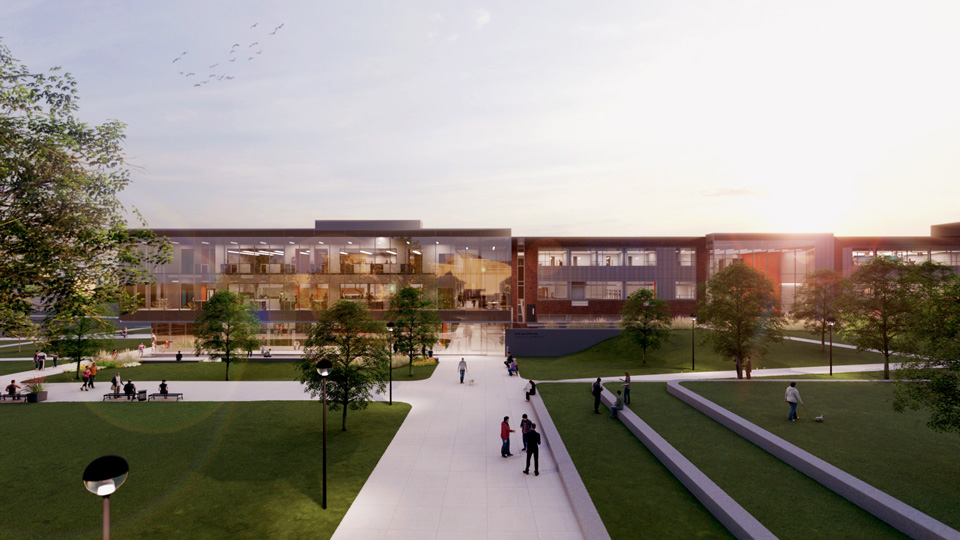 Classrooms and labs in the Zollner Engineering Center will remain open throughout the project. Once the building expansion is completed in August 2022, classrooms and labs will move into the new space while renovation of the existing space takes place from May 2022 to September 2023. The fully expanded and renovated center will open in the fall of 2023.
The Zollner Engineering Center was built in 1958, with the current facility's west wing opening as the Charles A. Dana Science Building in June of that year. The building was renovated and expanded to the east, into its current configuration, in 2002.
To learn more about this transformational project, visit www.indianatech.edu/zollner.
Professor Joyner's Explorer post continues its impressive run of learning and competing
In May, Indiana Tech's Explorer Post 2829, advised by longtime physics professor, Dr. Rex Joyner, enjoyed another impressive showing at the National Robotics Challenge in Marion, Ohio.
The seven-person team, consisting of local boys and girls from 6th grade through college, earned six awards—four bronze, one silver and one gold. In addition, two students were nominated for the NRC's top prize, the Honda Innovation Award.
On a national level, the Exploring program was started by the Boy Scouts of America, and is open to both boys and girls from grade 7 through age 20. It was created to motivate participants to learn about different career fields—thus posts are organized to promote specific fields, such as firefighting, police work, medicine, piloting, etc. Posts are sponsored by organizations with expertise in that field.
Indiana Tech's Explorer Post 2829 is devoted to promoting engineering in general in the Fort Wayne area, with a particular emphasis on robotics. It was founded in 1995. Since then, the post has won more than 100 gold, silver and bronze awards from the NRC and other top-tier competitions.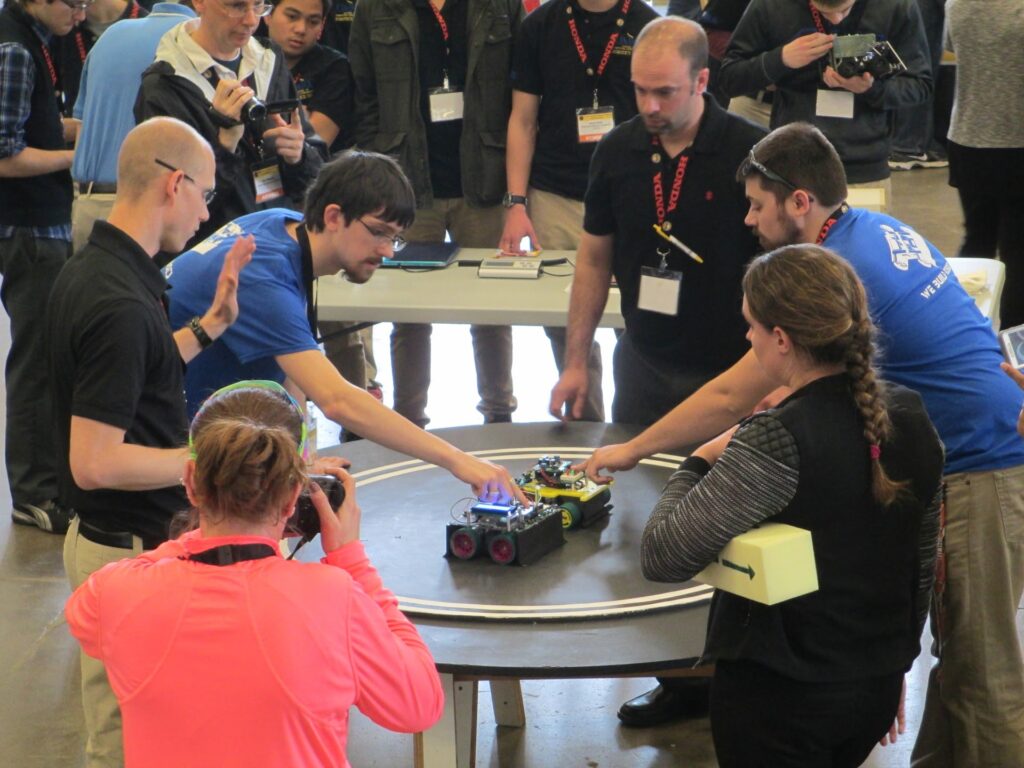 Participants are immersed into a curriculum that focuses on software, coding, electronics and construction. The culmination of the group's year-long work is the annual national competition, where participants pit their robotic creations against others from the region.
Great work: See the impactful ways five students wrapped up their Tech careers
Senior capstone projects require countless hours that entail successes, failures, exhilaration and frustration—all with a clock-ticking deadline looming overhead.
Internships give students a first-person glimpse at what a workplace in their chosen field looks like and what it will take to succeed in that environment. Both provide perfect preparation for the real world ahead.
Watch the videos below to see the impressive ways Keen Ching, Calista Helinski, Solomon Long, Jordan Miller and Alejandro Ortiz finished up their college careers at Indiana Tech and showed they are primed to make a difference as they move beyond the campus.
Alejandro Ortiz: Electronic Prosthetic Hand
Biomedical engineering major Alejandro Ortiz demonstrates his capstone project, an electronic lower-arm prosthetic. Alejandro is a member of Indiana Tech's Class of 2021.
Calista Helinski: Senior Internship Profile
Software engineering major Calista Helinski talks about her senior internship at Fort Wayne Metals and how it has helped her become career-ready after graduation. Calista is a member of Indiana Tech's Class of 2021.
Jordan Miller: Advanced 3D Printer
Mechanical engineering major Jordan Miller discusses his capstone project, an existing 3D printer that he has modified to use multiple printing tools and high-temperature plastics found in industry. Jordan is a member of Indiana Tech's Class of 2021.
Keen Ching and Solomon Long: Human Detection Device
Electrical engineering majors Keen Ching and Solomon Long discuss their capstone project, a human detection device that monitors human footsteps for potential security and heat-mapping applications. Keen and Solomon are members of Indiana Tech's Class of 2021.