Recommencement: Graduation ceremonies return to celebrate 2020 and 2021 grads
Saturday, May 15, 2021, marked both a special celebration and an important step in the return to normalcy for Indiana Tech: Commencement Day. For the first time in two years, graduates, their friends and families, community members and Indiana Tech faculty and staff were able to gather in person to celebrate those earning their degrees from the university.
Three ceremonies were held to honor those earning undergraduate, graduate and Ph.D. degrees, one for each of Tech's three colleges: Arts and Sciences, Business, and Engineering and Computer Sciences. Watch each of the ceremonies on our Commencement 2021 YouTube playlist.
While social distancing was in place to help protect the health of attendees, the use of three ceremonies meant graduates were still able to invite as many family members and friends as they liked to cheer them on at the Allen County War Memorial Coliseum. Graduates from 2020 were also invited to join their 2021 counterparts in walking the stage to receive their degrees.

Graduation by the Numbers
Ceremonies
College of Arts and Sciences
College of Business
College of Engineering
Total Graduates
1,071 graduates
679 attended
171 from 2020
Home Away from Home
79 graduates are from countries outside the United States
Beyond the Classroom
134 graduates are scholar-athletes
Perfect 4.0 GPA
31 undergraduates
23 master's graduates
1 Ph.D. graduate
Military
71 graduates are veterans or members of the military
Degree Types
XXX graduated with an associate
XXX graduated with a bachelor's
216 graduated with a master's
8 graduated with a Ph.D.
Longtime Indiana Tech associate professor and board of trustees member Sherrill Hamman served as the featured speaker during each of the three ceremonies. After 45 years of distinguished service to students and the university, Hamman retired at the end of the 2020-21 academic year. During the commencement ceremonies, Professor Hamman was recognized with an honorary doctorate for her service to Indiana Tech.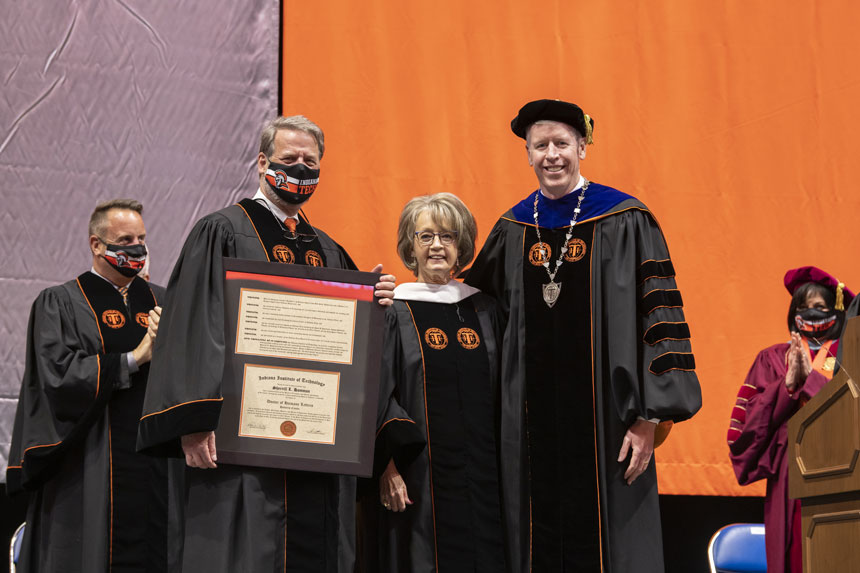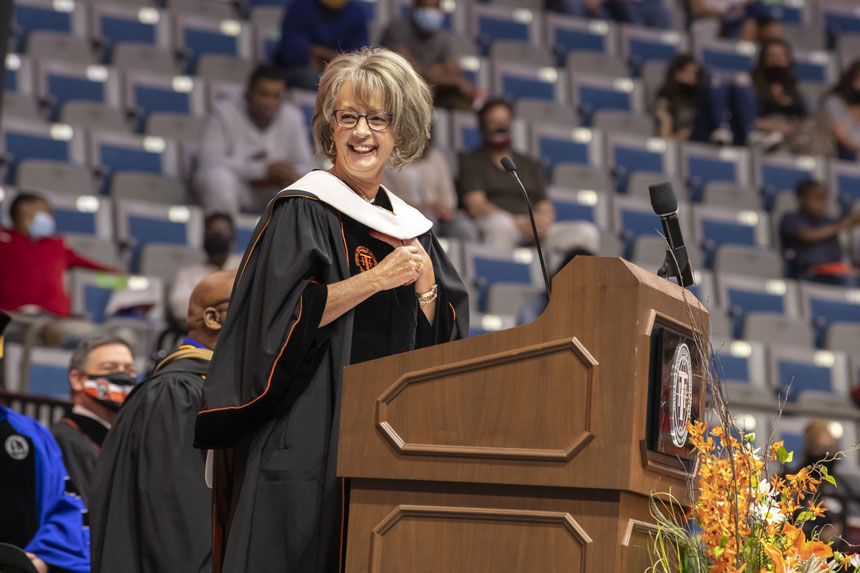 Each of the three ceremonies also featured a student speaker. Christina Wynn addressed College of Arts and Sciences graduates; Laney Steckler spoke to the College of Business graduates; and Arianna Cooper addressed graduates at the College of Engineering and School of Computer Sciences ceremony.
Assistant Professor of English, Carrie Rodesiler, was recognized during commencement as the 2021 Faculty of the Year award winner. Each year, a committee of students from the traditional undergraduate and College of Professional Studies programs chooses the Faculty of the Year winner from among a slate of nominees offered by students. Award winners exemplify excellence in teaching through in-depth knowledge of their discipline; providing opportunities for growth and learning to students; building strong relationships with students and colleagues; holding high expectations for students; and helping them achieve their fullest potential, among other qualities.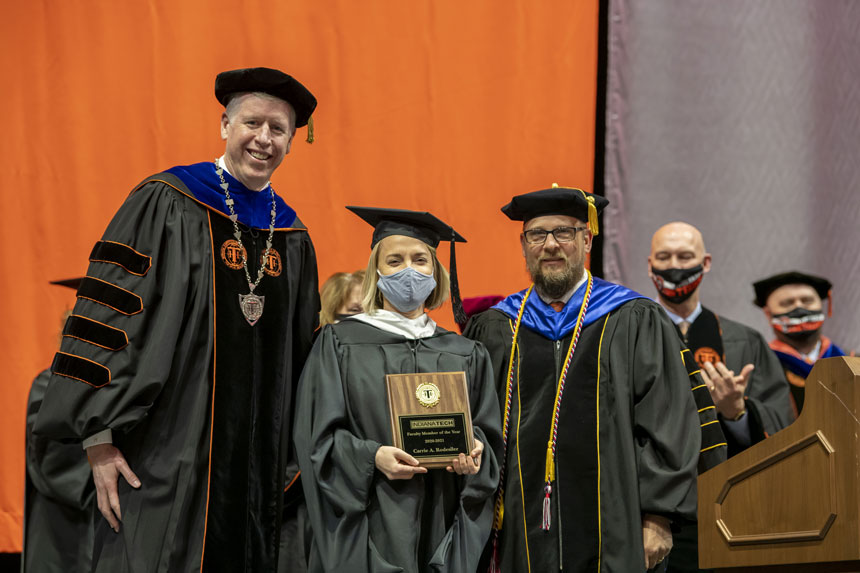 Outstanding Graduates for 2021
During the week leading up to Commencement Day, each of Indiana Tech's three colleges held a special ceremony to honor their Outstanding Graduates for 2021. These annual awards honor top students from each college in both the traditional undergraduate and College of Professional Studies (CPS) programs. Honorees from this year's ceremony included:
College of Arts and Sciences
Overall Outstanding College of Arts and Sciences Graduate: Kelsey Ivers
Outstanding Humanities Student Award: Ally Zenda
Biology: Kelsey Ivers
Child Development, CPS: Melissa Mitchell
Criminal Justice: Logan Baugher
Criminal Justice, CPS: Ebony Carter
Criminal Justice-Administration: Andrew Lanoue
Criminal Justice-Rehabilitative Services, CPS: Chelsey Hull
Elementary Education: Kayla Saffran
Emergency Response Management, CPS: Kevin Crist
Exercise Science: Maria Jiminez Coello
General Studies: Cody Craig
Health Information Management, CPS: Carley Scheumann
Human Services, CPS: Diana Sibrel
Pre-Law: Diana Samardzic
Psychology: Emma Wolfe
Psychology, CPS: Amanda Grimes
Master of Psychology: Zachary Zumbaugh
Recreation Therapy: Lily Rothert
Special Education Mild Intervention: Ashton Stier
College of Engineering
Overall Outstanding College of Engineering Graduate: Pablo Bono Monreal
Biomedical Engineering: Pablo Bono Monreal
Computer Engineering: Corbyn Wallace
Electrical Engineering: Solomon Long
Energy Engineering: Nicholas Brandt
Master of Engineering Management: Rebecca Quesenberry
Industrial and Manufacturing Engineering: Pablo Torne
Industrial and Manufacturing Engineering, CPS: Matthew Campbell
Mechanical Engineering: Zachary Green
School of Computer Sciences
Overall Outstanding School of Computer Sciences Graduate: Cameron Fyfe
Computer Science: Taylor Lang
Cybersecurity: Asem Al-Daej
Information Systems, CPS: Brigetta Freeman
Network Engineering: Brent Yoder
Software Engineering: Damian Metz
Web Development: Kyndall Pursley
College of Business
Overall Outstanding College of Business Graduates: Emma Tuominen and Jack Koshko
Accounting: Laney Steckler and Joshua Hattery
Accounting, CPS: Kaitlin Duffield
Master of Business Administration: Madison Bouwers
Business Communication, CPS: Beth Anderson
Entrepreneurial Studies: Madelyn Omo
Fashion Marketing and Management: Jacey McLaughlin
Financial Services: Max Amoako
Financial Services, CPS: Ryan Bullock
Health Care Administration: Jeramiah Taylor
Human Resources: Hadley Hopkins
Human Resources, CPS: August Heath
Management: Za Wong
Management, CPS: Kimberly Blick
Master of Science in Management: Adam Karnowski
Management Information Systems: Kenyatta Dean
Marketing: Andrew Neller and Kim Siercks
Marketing, CPS: Rebecca Daniels
Master of Science in Organizational Leadership: Kudakwashe Chiremba
Sport Management: Jakob Bowden and Morganne Holdreith
Sport Management, CPS: Colton Oland