Anonymous $4 million donation will pave the way for indoor track and field facility at Warrior Park
An anonymous donor has gifted Indiana Tech $4 million toward the construction of an indoor track and field facility at the university's Warrior Park athletic complex. The building will include a six-lane competition track, with the interior of the track featuring a turf surface to allow other athletic teams to utilize the space.
"Indiana Tech is eternally grateful for this wonderful and historic gift," says Indiana Tech President Karl W. Einolf, Ph.D. "This is one of the largest donations to our university in its 91-year history, and it will help us build a facility that serves not only Indiana Tech athletes, but additional track and field athletes throughout our region. This donor's selflessness gives Fort Wayne a great victory. Thank you."
Indiana Tech expects to make the facility available for use by local track and field athletes from area colleges, universities and high schools when it is not being used by Indiana Tech teams.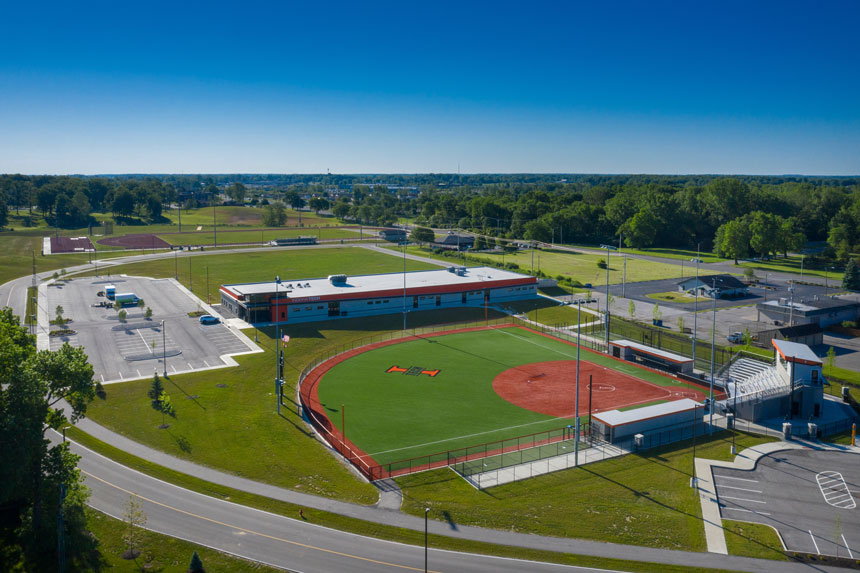 The Warrior Park athletic complex opened in March 2019, and currently includes a softball stadium, an outdoor track and field stadium and the Warrior Multipurpose Athletic Building, the training home for the men's and women's wrestling programs.
Providing Indiana Tech's men's and women's track and field student-athletes with dedicated indoor and outdoor facilities further separates the program as a National Association of Intercollegiate Athletics powerhouse; the program has experienced a remarkable decade of success while using a multitude of training facilities. Over the past 10 years, Indiana Tech's track and field program has amassed 14 national championships. The men's team won the outdoor championship in 2016, 2014 and 2013, and notching indoor titles in 2021, 2019, 2017, 2016, 2015 and 2014. The women won outdoors in 2021, 2014 and 2013, and took indoor titles in 2021 and 2017.
"This donation will make a major impact in the daily training of our student-athletes. To have a meet-level facility of our own is amazing; this is a huge step forward for our program!" said Indiana Tech head men's and women's track and field coach Doug Edgar. "I appreciate this generous gift and look forward to hosting meets in this facility very soon."
Indiana Tech's indoor track and field facility will attach to the east side of the Warrior Multipurpose Athletic Building. Groundbreaking and construction details for the facility will be announced in the near future.
Tech earns Gold designation as a Military Friendly® School for 2021-22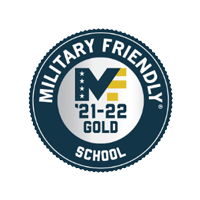 Indiana Tech has been designated a Military Friendly School for 2021-22 by Viqtory, a service-disabled, veteran-owned small business (SDVOSB) that connects the military community to civilian employment, educational and entrepreneurial opportunities. Military Friendly is the standard that measures an organization's commitment, effort and success in creating sustainable and meaningful benefits for the military community.
This year, Indiana Tech was recognized as a Gold Level institution, placing the university among the very top level of schools across the country. Indiana Tech has been recognized as a Military Friendly School for 10 straight years.
"Indiana Tech has a long-standing tradition of connecting those who have served our country with tools and resources that will help them move forward in their careers," says Ryan Ozbun, director of Indiana Tech's Military & Veteran Services team. "Our team takes great pride in upholding this tradition and knowing the ins and outs of military education benefits so that our students get the quality service and education they deserve."
Indiana Tech's Military & Veteran Services team extends its support to current members of the military, veterans, military spouses and civilian Department of Defense employees. Learn more at military.indianatech.edu.
Generous grant from Lilly Endowment, Inc. will help improve student retention
Indiana Tech will benefit from a $9.8 million grant from Lilly Endowment, Inc. through the competitive Phase 3 of its initiative, Charting the Future of Indiana's Colleges and Universities. The grant, which will be coordinated by the University of Indianapolis, will support an initiative to improve student retention through the use of data analytics at six institutions of higher education across the state, including the University of Indianapolis, Anderson University, Indiana Tech, Martin University, Saint Mary-of-the-Woods College and the University of Southern Indiana.
Indiana Tech is one of 16 Indiana colleges and universities that will be supported by funding in the final phase of Charting the Future, an initiative designed to help colleges and universities in Indiana assess and prioritize the most significant challenges and opportunities they face as higher education institutions and develop strategies to address them.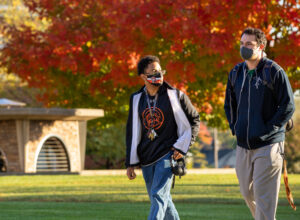 Indiana Tech will receive $1.3 million to deploy a predictive model and supportive processes for student retention, which were developed by the University of Indianapolis for Phase 2 of Lilly Endowment's Charting the Future of Indiana's Colleges and Universities initiative. The model will be tailored for each school to be responsive to their unique student body, programming and structure. The grant will also include numerous interventions that all six schools will implement to support students who are identified as being at risk by the model. This allows for both early identification and early intervention for students in an effort to improve retention across all six schools, which will work collaboratively to share best practices throughout, maximizing impact and benefit to students.
"Student retention and student success initiatives have long been a priority of our entire team here at Indiana Tech," commented Indiana Tech President Karl Einolf. "By partnering with the University of Indianapolis and schools across Indiana, we will all improve our work on behalf of students. We're excited about this opportunity, and greatly appreciate Lilly Endowment's support of this initiative."
"Indiana's colleges and universities face myriad challenges as they work to fulfill their educational missions while adapting to growing financial pressures, rapid demographic and technological changes, and evolving needs and demands of students," said Ted Maple, the Endowment's vice president for education. "We are pleased with the creative and collaborative approaches the colleges and universities are taking to address these challenges and seize opportunities to better serve their students, institutions, communities and the state of Indiana."
Lilly Endowment launched the three-phased Charting the Future initiative in 2019 to help leaders of the state's 38 colleges and universities engage in thoughtful discernment about the future of their institutions and to advance strategic planning and implementation efforts to address key challenges and opportunities. Collaboration was encouraged, especially in the third phase of Charting the Future, and several schools proposed collaborative programs and strategies. Through three phases of grant making, Lilly Endowment awarded more than $138 million to the schools.
New regional campus opens in Hammond, Indiana
Indiana Tech has served the northwest Indiana region from its Munster location for more than 10 years. To better serve the growing needs of its students and corporate partners, the university has relocated its northwest Indiana operations to a new site offering greater convenience and more educational amenities.
Now conveniently located just off I-80 and Kennedy Avenue in Hammond at 2901 Carlson Drive, Suite 203, Indiana Tech's newest location replaces its former site in Munster. This new location offers greater accessibility to students and companies throughout the northwest Indiana region, as well as those in the Chicago area.
The move will afford students and their employers from throughout the region greater access to learning resources, including advanced admissions services, upgraded classroom facilities and a new state-of-the-art computer lab.
"For more than a decade, Indiana Tech has had great success in helping northwest Indiana's busy working adults achieve their academic goals," says Steve Herendeen, vice president for enrollment management at Indiana Tech. "We are excited to be able to continue doing so with a new location that offers students many updated amenities. We look forward to working with students and our corporate partners in the region for many years to come."
Indiana Tech's College of Professional Studies offers career-focused undergraduate and graduate degree programs and credit-bearing certificates that are designed to fit the schedules of busy working adults. Classes are offered online, on site at 18 regional locations or a combination of both. Sessions start every six weeks, so students can start any time, take one class at a time and make rapid progress toward degree completion.
University welcomes new members to the Board of Trustees
Recently, the Indiana Tech Board of Trustees voted to appoint several new members, and voted several current members to additional three-year terms, effective July 1, 2021. New members starting their service include:
Thomas Burns, a 1973 BS Civil Engineering graduate of Indiana Tech who spent his 34-year career with Mars, Inc., retiring as director of engineering for North America.
Clifford Clarke, a 1989 BS Data Processing and 2005 MBA graduate (and current PhD student) of Indiana Tech, who will serve as Alumni Association representative on the board.
Jack Phlipot, associate professor of biomedical engineering, who will serve as the faculty representative on the board.
Jarrod Stoller, a 2000 BS Mechanical Engineering and 2002 MBA graduate of Indiana Tech who serves as Technical Sales Manager for Therma-Tru Doors.
Anthony Juliano, a 2004 MBA graduate of Tech who previously served as Alumni Association representative on the board and was elected to a full three-year term by the trustees.
Current board members continuing their service through new three-year terms include Vice Chair Dick Schul, Secretary Cheri Becker, Geoff Paddock and Ravi Talwar.
During the May 2021 quarterly meeting of the trustees, the board also took time to honor two departing members: faculty representative Sherrill Hamman and board member Manuel Pena-Morros. Both were recognized for their long service to Indiana Tech by board chair Gregg Sengstack. Although no longer serving on the Board of Trustees, each plans to remain active in the Warrior community.
To learn more about the members of the university's board, visit the Board of Trustees page on our website.