Commencement 2022: The best two days of the year!
At Indiana Tech, we like to say that commencement day is the university's favorite day of the year. This year, the Warrior Nation got a double dose, and the grand old campus got to host its first commencement ceremony in nearly two decades.
On Friday evening, May 13, students received their master's and doctoral degrees during the our Graduate Commencement Ceremony in Indiana Tech's Schaefer Center gymnasium. With a gorgeous golden evening creating a wonderful post-ceremony backdrop, graduates celebrated with friends and family, community members and Indiana Tech faculty and staff on the Snyder Academic Center lawn. It was the first commencement held at the university since 2004 when ceremonies were moved to Fort Wayne's Allen County War Memorial Coliseum.
On the following day, the coliseum hosted Indiana Tech's Undergraduate Commencement Ceremony as students walked across the stage to earn their bachelor's and associate degrees. Afterward, graduates were welcomed back to campus to celebrate with their family and friends.
You can watch each of the ceremonies on our Commencement 2022 YouTube playlist.

Graduation by the Numbers
Ceremonies
Graduate Ceremony
Friday, May 13
Undergraduate Ceremony
Saturday, May 14
Total Graduates
986 graduates
722 attendees
Home Away from Home
111 graduates were from countries outside the United States
Beyond the Classroom
64 graduates were scholar-athletes
Perfect 4.0 GPA
24 undergraduates
35 master's graduates
2 Ph.D. graduates
Military
33 graduates were veterans or members of the military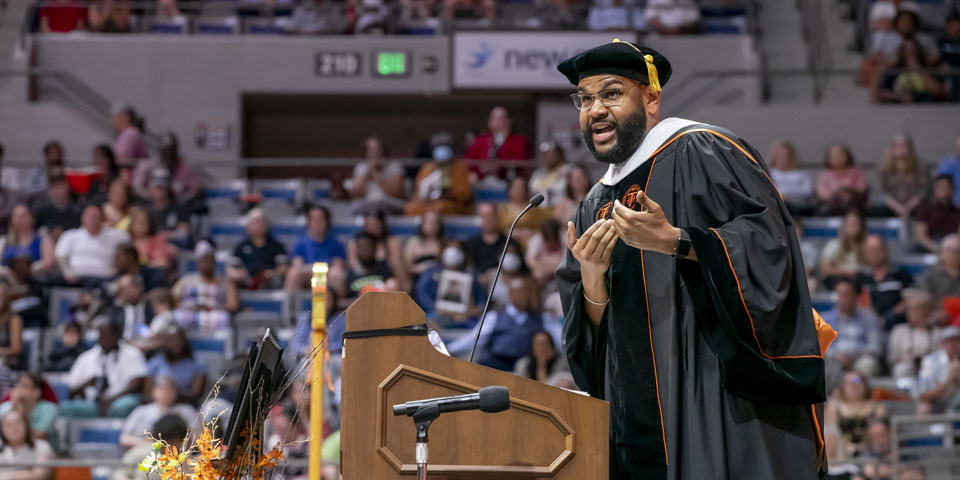 Dr. Maurice A. Stinnett, an experienced leader and expert in the areas of diversity, inclusion and equity and global head of diversity, equity and inclusion at Warner Music Group was the featured speaker for both ceremonies.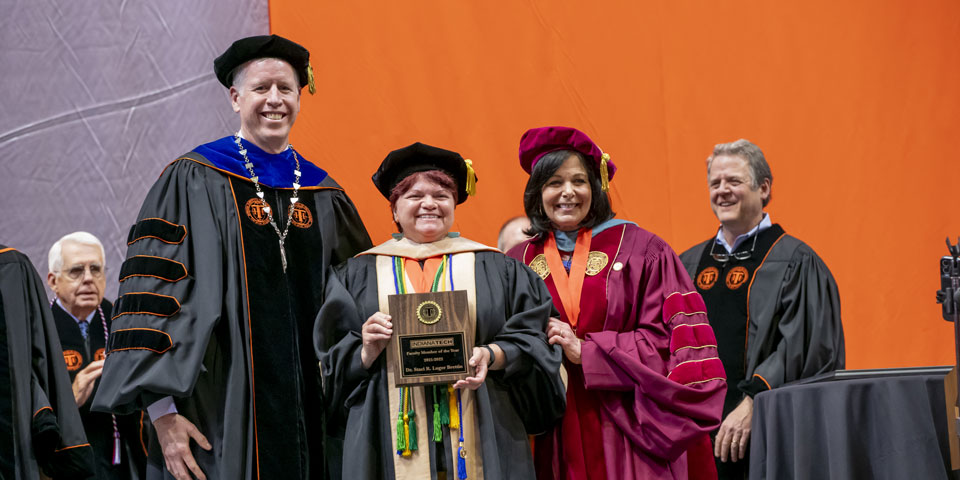 Each ceremony also featured a student speaker. Priscilla S. DeLeon, Ph.D., addressed Friday's graduate ceremony, while Victoria Raffle spoke the following day during the undergraduate ceremony.
Associate Professor of Marketing and Management, Staci Lugar-Brettin, was recognized during commencement as the 2022 Faculty of the Year award winner. Each year, a committee of students from the traditional undergraduate and College of Professional Studies programs chooses the Faculty of the Year winner from among a slate of nominees offered by students. Award winners exemplify excellence in teaching through in-depth knowledge of their discipline; providing opportunities for growth and learning to students; building strong relationships with students and colleagues; holding high expectations for students; and helping them achieve their fullest potential, among other qualities.
Outstanding Graduates for 2022
Prior to the 2022 commencement ceremonies, each of Indiana Tech's three colleges held programs to honor their outstanding graduates of the year. Here are Indiana Tech's outstanding graduates for 2022:
College of Arts and Sciences
Bachelor's Degrees
Overall College of Arts and Sciences Student: Cherokee Bodell
Biology: Maxwell Jenkins
Child Development: Yasmin Juarez
Communication: Havilyn Cummings
Communication: Joshua Lundy
Criminal Justice: Justin Beihold
Criminal Justice: Kayla Bivens
Digital Graphics and Design: Phong Dang
Emergency Response Management: Brandon Goller
Exercise Science: Mikayla Dunn
General Studies: Marty Tetrick
Health Information Management: Thomas Mathias
Human Services: Danielle Stouffer
Psychology: Talia Graber
Recreation Therapy: Allison Pensyl
Special Education Mild Intervention: Paige Motycka
Master's Degree
Master of Psychology: Martin Granados
College of Business
Bachelor's Degrees
Overall College of Business Student: Victoria Raffle
Accounting: Xavier Overstreet
Accounting: Eliza Stanley
Business Administration-Entrepreneurial Studies Concentration: Andrew Smith
Business Administration-Financial Services Concentration: Jayden Reed
Business Administration-Financial Services Concentration: Maxxwell Sell
Business Administration-Health Care Administration Concentration: Anastasia Arnett
Business Administration-Human Resources Concentration: Melissa Gatewood
Business Administration-Human Resources Concentration: Dillon McArthur
Business Administration-Management Concentration: Verlin Ramsey
Business Administration-Management Concentration: Timothy Stein
Business Administration-Marketing Concentration: Kayla Bunkowske
Business Administration-Marketing Concentration: Kirsten Nartker
Business Administration-Marketing Concentration: Jacob Vanderpool
Fashion Marketing and Management: Emily Oler
Marketing: Jeff Grow
Marketing: Matej Krasny
Organizational Leadership: Nicholas McVittie
Sport Management: Chloe Smithley
Master's Degrees
Master of Business Administration: Kendall Knapke
Master of Science in Management: Megan Carbaugh
Master of Science in Organizational Leadership: Angela Clemens
Talwar College of Engineering and Computer Sciences
Bachelor's Degrees
Overall Talwar College of Engineering and Computer Sciences Student: Alexandra Forsythe
Biomedical Engineering: Allyson Versluys
Computer Science: Abibatou Diallo Bathily Sakho
Cybersecurity: Param Pankaj Mehta
Electrical Engineering: Joshua Kline
Industrial and Manufacturing Engineering: Eric Vermillion
Mechanical Engineering: Baili Autumn Bowers
Software Engineering: Jake Michael Willison
Master's Degree
Master of Science in Engineering Management: Paulo Alejandro Delgadillo Helmer
Photo Galleries
Relive Indiana Tech Commencement 2022 though our photo gallery