$1.7 million grant from Don Wood Foundation supports Zollner Engineering Center expansion and renovation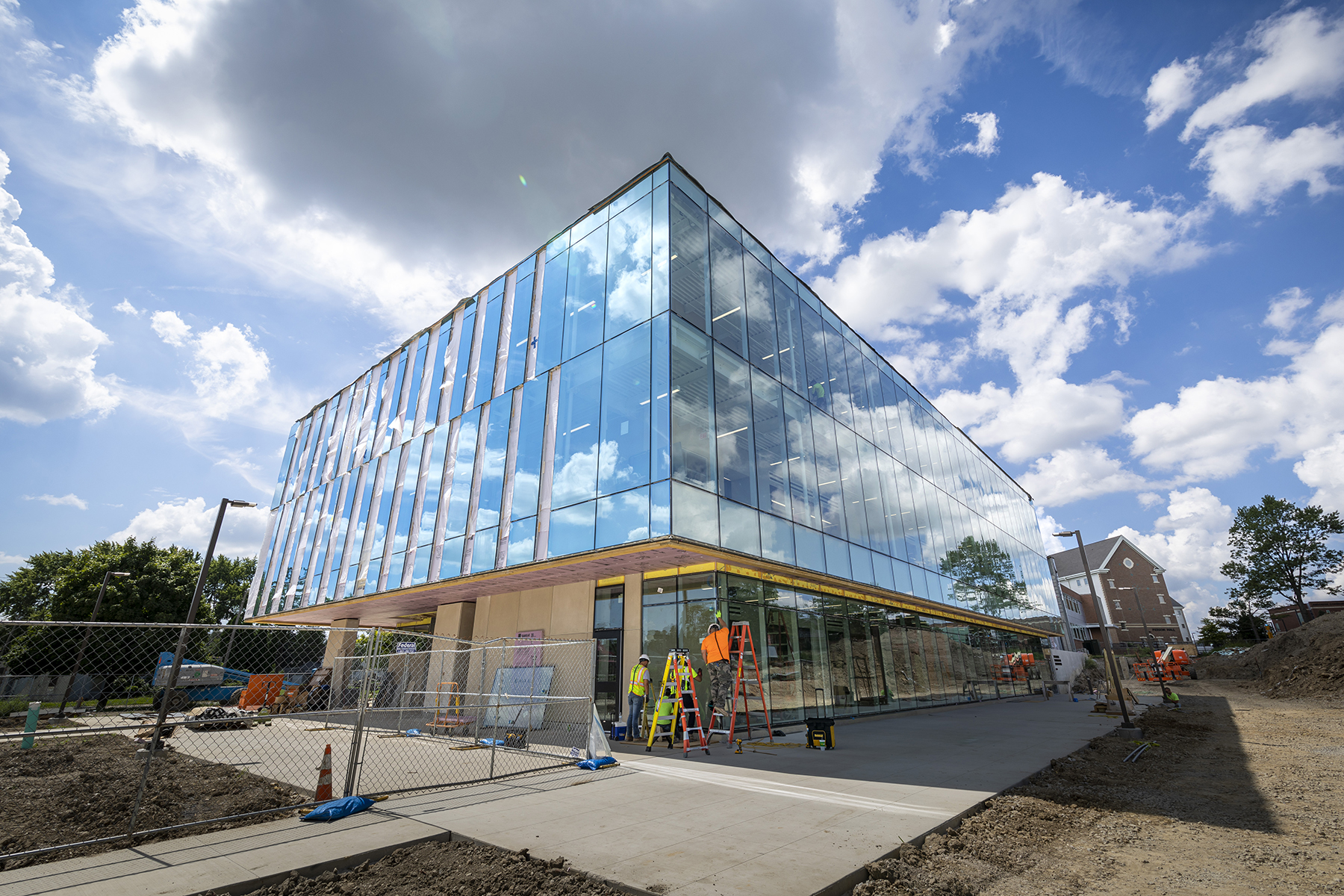 Indiana Tech has received a $1.7 million grant from the Don Wood Foundation to support its project to expand and renovate the Zollner Engineering Center on the university's main campus in Fort Wayne. The grant will help fund the construction and purchase of state-of-the-art lab equipment for the Zollner Engineering Center's new PLC, Mechatronics and Robotics, and Power and Controls laboratories. The new Robotics lab is part of the addition to the Zollner Engineering Center currently under construction. It will open for use by Indiana Tech students for the fall semester of 2022 when the new addition is complete. The existing sections of the Zollner Engineering Center will then undergo extensive renovations, with the entire project to be completed in the fall of 2023. The new PLC and Power and Controls labs will be located in the renovated portion of the facility.
Indiana Tech President Karl W. Einolf, Ph.D., commented, "On behalf of our students, faculty and staff, I'm extremely grateful for the support of the Don Wood Foundation. This tremendous grant will enable us to fully realize our vision for turning the Zollner Engineering Center into one of the finest engineering and computer sciences facilities in the country. Indiana Tech's current and future students will benefit from the extraordinary learning opportunities this grant will enable. Our regional economy wins, too. With the support of the foundation, we'll be educating future leaders in STEM fields of every description for years to come."
Don Wood Foundation Executive Director, Laura M. Macknick, concurred with Dr. Einolf about the impact of this grant. "The Don Wood Foundation is pleased to partner with Indiana Tech, which has a reputation for providing top-notch educational opportunities for its engineering and technical students in Northeast Indiana. This grant will provide the university with cutting-edge equipment which will augment their scholars' pursuits in the classroom."
In recognition of the Wood Foundation's generosity, Indiana Tech will name the area of the building receiving foundation support The Don Wood Foundation Science, Technology and Engineering Wing.
With a vision to transform the region's industrial workforce, The Don Wood Foundation is an extraordinary gift to the educational community in our area, with a goal of aligning opportunities between students, community and industry. Don Wood created the foundation to support training and education in the areas of:
Industrial Technology
Machine Tool Technology
Engineering Technology
Sales
Entrepreneurship
Leadership
The Zollner project is a major expansion and renovation of Indiana Tech's engineering and computer sciences center on its main campus in Fort Wayne. The university is investing $21.5 million in the project, which will nearly double the current size of the facility and result in an all-new home for Indiana Tech's growing programs in engineering, computer sciences, cybersecurity, life sciences, technology and more. Construction began in May 2021, and the first phase of the project, a 30,000-square-foot addition to the east side of the current facility, will be complete in August 2022. The next phases of the project will begin in late May 2022 and include a complete renovation of the existing Zollner Center space, resulting in an all-new, 70,000-square-foot, three-floor facility that will be complete in the fall of 2023. For more information about the project, Indiana Tech and its Talwar College of Engineering and Computer Sciences, visit indianatech.edu/zollner.
Professor Matt Hansen appointed to Indiana Executive Council on Cybersecurity by Governor Holcomb
Matt Hansen, Indiana Tech alum, adjunct professor and coach of the university's national powerhouse cyber defense team, the Cyber Warriors, has been appointed as an advisory member to Governor Eric J. Holcomb's Indiana Executive Council on Cybersecurity.
Hansen, a senior cloud solution architect at Microsoft, will help advance cybersecurity initiatives—primarily in health care and Indiana Workforce Development working groups—across the state.
Created in 2017, Governor Holcomb's Council on Cybersecurity is comprised of a cross-sector body of subject-matter experts tasked with assessing and understanding Indiana's cyber risk profile. The council identifies the state's priorities related to cybersecurity and establishes a strategic framework for Indiana's cybersecurity initiatives.
Hansen has coached Indiana Tech's Cyber Warriors since 2015, with this year arguably being the squad's best ever as it finished 11th in the nation. All told, the Cyber Warriors have won 15 Indiana Collegiate Cyber Defense Competitions (including eight straight) and three regional titles.
Hansen earned his undergraduate and graduate degrees from Indiana Tech; a Bachelor of Science in Network Engineering in 2014 and a Master of Science in Engineering Management in 2018.
To learn more about Governor Holcomb's Executive Council on Cybersecurity, visit in.gov/cybersecurity.
University receives $1.5 million grant from the U.S. Economic Development Administration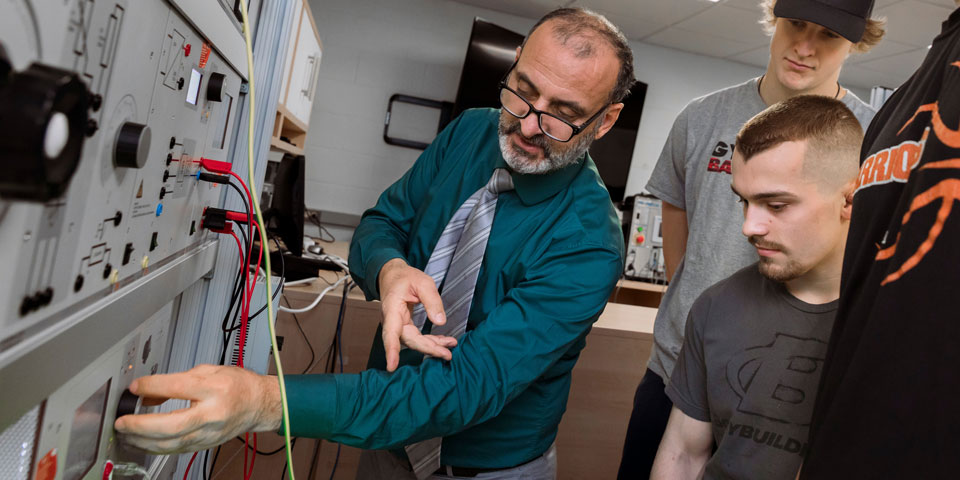 Indiana Tech has received a $1.5 million grant from the Economic Development Administration, a part of the U.S. Department of Commerce. The grant will fund the purchase of technical equipment needed to train students in 11 engineering and manufacturing-related certification programs. The programs will prepare students to sit for and pass certification exams in fields such as automation, 3-D printing, artificial intelligence, drone operation, printed circuit board design, battery management, and cybersecurity.
Indiana Tech's grant proposal was titled "Launching the Northeast Indiana Center for Engineering (N.I.C.E.) for Industry Revolution 4.0." Indiana Tech's new Northeast Indiana Center for Engineering (NICE) provides a physical location to house economic and workforce development and prototyping and fabrication resources and equipment that are needed throughout Northeast Indiana. It will be housed in the newly expanded Zollner Engineering Center on Indiana Tech's main campus in Fort Wayne; the NICE space will be the location for the new equipment funded by the EDA grant.
The grant will help boost the economy of Northeast Indiana by serving the needs of wide-ranging industries and will help prepare students of all ages and backgrounds for in-demand, well-paying jobs in Indiana's strong and growing technology and manufacturing sectors.
Dr. Ying Shang, dean of Indiana Tech's Talwar College of Engineering and Computer Sciences, commented, "The Economic Development Administration grant is an exciting opportunity not just for Indiana Tech, but for our entire region to further develop the talented and highly-trained workforce our area industries need. Thanks to the grant, our Northeast Indiana Center for Engineering will be the home of the state-of-the-art equipment needed to train students to enter a wide range of innovative fields. All of us at Indiana Tech are grateful for the support of our work by the EDA."
U.S. Secretary of Commerce Gina M. Raimondo commented, "This EDA investment at Indiana Tech provides hands-on training in high-demand jobs that are critical to Northeast Indiana and across the country, rapidly meeting the needs of local employers and boosting U.S. global competitiveness." Assistant Secretary of Commerce for Economic Development Alejandra Y. Castillo further noted, "The Economic Development Administration provides direct support to communities across the country that were hit hard by the pandemic. The EDA investment in Indiana Tech will train thousands of students and help the region grapple with its dual challenges of high unemployment, especially among underserved populations, and the shortage of skilled workers."
The Northeast Indiana Center for Engineering initiative supported by the grant is a part of the Zollner Engineering Center project, a major expansion and renovation of Indiana Tech's engineering and computer sciences center. For more information about the project, Indiana Tech and its Talwar College of Engineering and Computer Sciences, visit indianatech.edu/zollner.
Parkview Health leaders are first graduates of Indiana Tech L.E.A.D. Executive Certificate program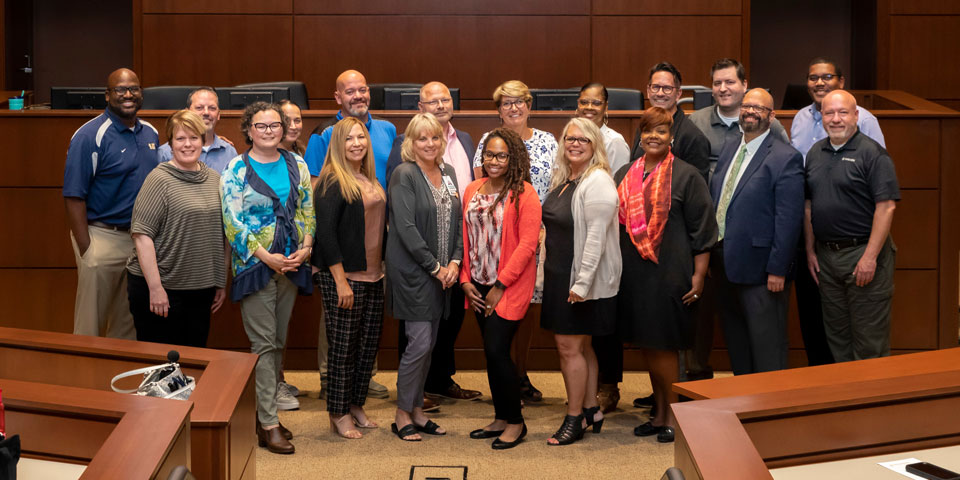 A cross-functional cohort of 15 Parkview Health executives completed Indiana Tech's Leveraging Engagement and Action in Diversity (L.E.A.D.) Executive Certificate program this summer. The Parkview team began the program in late March, with the final class session taking place at Indiana Tech's corporate engagement center on its main campus on June 17. Students in the program complete a total of six class sessions to earn their L.E.A.D. certificate.
The L.E.A.D. program is a collaboration between the university's Ph.D. in Global Leadership program, part of its College of Business, and its Office of Diversity, Equity and Inclusion. The certificate equips professionals with the critical skills required to lead and transform an organization's culture, helping managers and executives become more effective in understanding, leading and implementing inclusive organizational practices.
The program consists of a series of immersive courses created by diversity practitioners and educational leaders. Courses within the program are centered on three main focus areas: Dimensions of Diversity, which examines the subtle ways that a wide range of stereotypes can surface in a multicultural workplace; Creating an Inclusive Environment, which shares best practices related to the evolving role of leaders as agents of change; and Developing a Culture of Equity, which explores approaches to linking organizational strategy, culture and human resources with an emphasis on inclusive excellence.
Marlon Wardlow, senior vice president of equity and inclusion for Parkview Health, remarked, "At Parkview, we're focused on building an inclusive and equitable workplace, where our co-workers feel a sense of belonging and are treated with the utmost dignity and respect. We understand this type of culture begins with our leaders, who were eager to participate in the L.E.A.D. program and immediately began putting those lessons and new skills to work. We thank Indiana Tech for recognizing the importance of organizational diversity, equity and inclusion, and committing to serving our community through this program."
Parkview Health completely booked the entire first L.E.A.D. program session for members of its management team. Indiana Tech will begin the next L.E.A.D. session on September 15, 2022, with registrations still available for interested individuals and organizations. To learn more and to register, please visit indianatech.edu/leadcertificate.