On June 25 and 26, nine Indiana Tech women participated in a gratifying volunteer experience as they helped build a house during Habitat for Humanity of Greater Fort Wayne's Women Build initiative.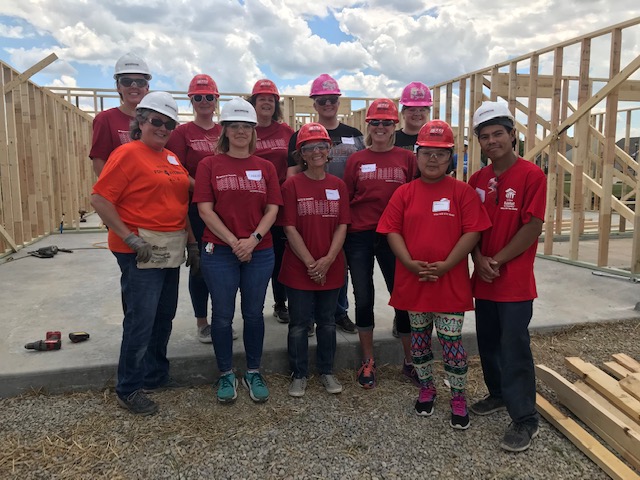 The build site was in New Haven's Victoria Lakes Subdivision, and as you can tell from the pictures, this involved serious work.
"It was an amazing volunteer experience—all the more so because all of the volunteers were women and mostly women who do white collar work," said Dr. Cortney Robbins, associate professor of English. "The most important benefit of the experience was working to build a home for a family, but we also learned about different types of construction work and how the Habitat Homeownership Program supports families in the greater Fort Wayne area."
Habitat for Humanity of Greater Fort Wayne (Habitat GFW) dedicates six weeks to Women Build, during which volunteer teams, comprised mostly of women, help build homes for Habitat GFW partner families. This year, 660 volunteers came together to hammer alongside one another and help make the dream of homeownership a reality for two Habitat partner families.
"We engaged around 27 companies with volunteer teams of five women each. The remaining teams were groups from the community or individuals who we see come back year after year," recalled Victoria McCallister, executive assistant at Habitat GFW. "Engaging in Women Build or any of our volunteer opportunities is a terrific way to give back to families in our community while also having fun alongside friends, family and coworkers."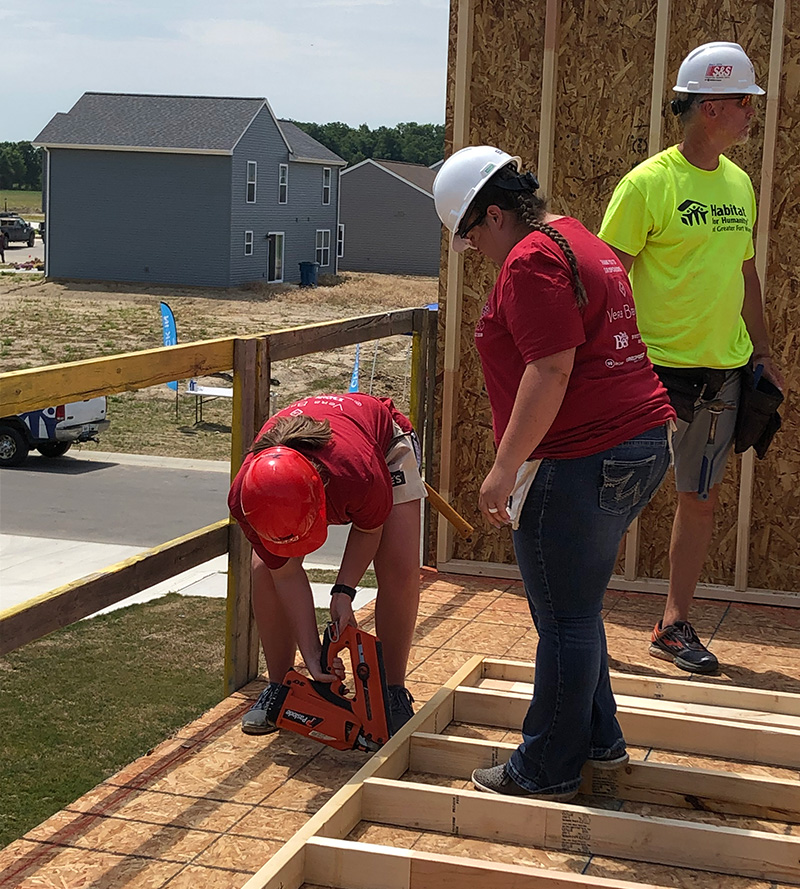 Habitat for Humanity International created the Women Build initiative in the United States in 1991 to give women another opportunity to take a proactive step in serving their communities. Since then, Women Build opportunities have become available across the country through Habitat affiliates, and any woman who wants to learn how to build and construct a home can volunteer, regardless of experience. Volunteers work under the guidance of construction professionals, and also alongside other volunteers and future Habitat homeowners.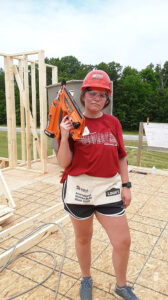 "I absolutely loved spending an afternoon working with power tools and hard-working women to build a house for a deserving family. It felt really good to be so industrious alongside my fellow coworkers in the sunshine," said Jennifer Mahocker, administrative assistant in the College of Arts and Sciences. "We got to learn about the family that would soon live in the home and hear about Habitat for Humanity's mission, which was much different than my initial assumptions. This opportunity inspires me to seek out other community service activities."
Families who are eligible to partner with Habitat GFW must have a need for housing, a willingness to partner with Habitat and an ability to pay a 0% interest mortgage with affordable payments based on their income.
"Habitat partner families are some of the most hardworking people you'll ever meet," explained Hailie Workman, Habitat GFW's development manager. "Each family must complete 400 hours of sweat equity, 13 classes which include financial capabilities and homeowner readiness topics, while also putting $1,000 towards the purchase of their home."
If you are in the Fort Wayne area and interested in learning more about Habitat GFW's mission or volunteer opportunities, visit habitatgfw.com/volunteer. Outside of Fort Wayne, visit habitat.org.
Also, check out Habitat for Humanity ReStores in your community. Habitat ReStores are independently owned reuse stores operated by local Habitat for Humanity affiliates that accept donations and sell home improvement items to the public at a fraction of the retail price. Proceeds are used to support local Habitat for Humanity initiatives.
In addition to Robbins and Mahocker, Indiana Tech was represented by:
Karma Bradley, Executive Administrative Assistant and Campaign Coordinator
Emily Carr, Academic Records Specialist
Barbie Dikeolakos, Operations Specialist
Kristi Jarmus, Admissions Representative
Mary Lasits, Senior Director of Institutional Advancement
Carrie Rodesiler, Assistant Professor of English
Jill Thomas, Administrative Assistant