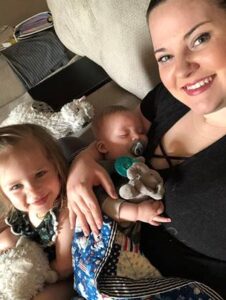 Susie Witte, Human Resources Specialist
I would just like to share a few things that I learned while working from home. I learned how much I value quality time with my family. What I noticed was that even though I got time with my family, it was not quality time. After returning to the office and getting back into the swing of things, I am enjoying the time with my kids where I can be 100% focused on them. In a lot of ways, working at home while taking care of two kids was like having two full-time jobs. It felt impossible! This tested my strength as an employee and as a mother. I was constantly changing roles, sometimes by the minute. When I got back into the office, I felt a little guilty that I was looking forward to things returning to normal. I have enjoyed leaving the office and knowing that I get to spend the next several hours playing with my kids and focusing solely on them. This experience with COVID-19 has taught me a lot about my personal values and what works best for my family. My kids are happiest when they get my full attention when I am around. I am happiest when I don't feel that constant pull between work and home. When I thought about it from that perspective, it really helped my mom guilt and showed me that I am the best version of myself when I can prioritize what is in front of me. I will, however, miss those in-between-meeting snuggles!
Matt Bair, Director of Marketing and Communication
The housing addition I live in wraps around a wetland area in northwest Allen County, and my backyard butts up against said wetland. Early in April, my wife and I started noticing the telltale signs of busy beavers on some of the trees at the edge of the wetlands. Careful observation and sneakiness allowed us to watch these fun creatures do their thing up close, and I was able to get plenty of cool pictures and video.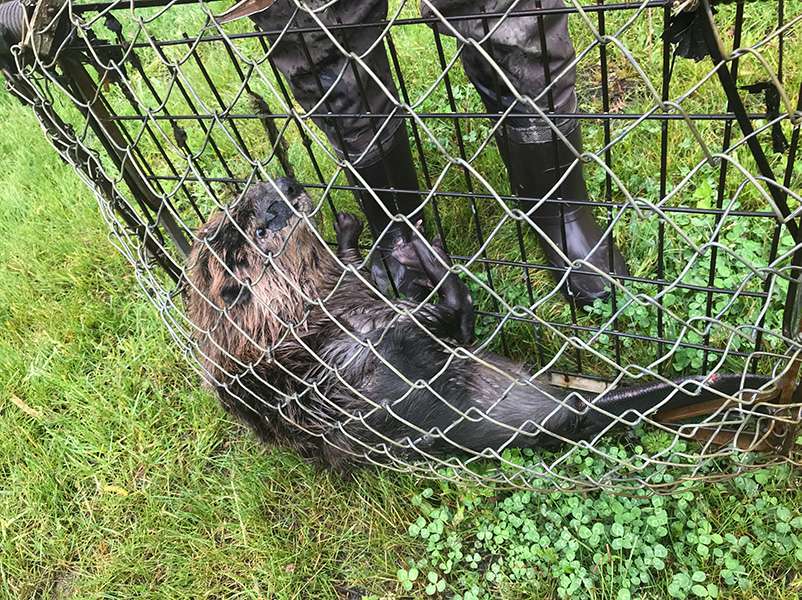 Long story short, the county was not appreciative of my beaver pals' work and, understandably, relocated them—they can be destructive. Still, I am grateful to have gotten this glimpse of nature at work.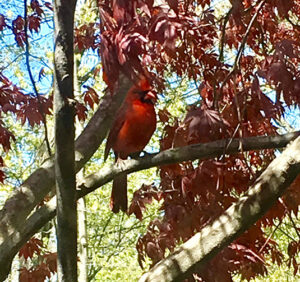 Jessica Peña, Financial Analyst/Risk Manager
I learned a lot this summer: being on camera makes me more self-aware of my posture, my cats really do sleep almost the entire day and getting a laptop with a ten-key pad was completely worth it. I also learned that the tree outside my home office window has birds and squirrels in it very often during the daytime, like this cardinal who stopped by recently.
Matt Brown, Director of Alumni Relations
Over the past couple of years I started taking up the hobby of painting, just letting things show up on canvas and seeing what came about. Recently I tried charcoal as a new medium, something I knew (and still know) nothing about but just tried the same approach: "just letting things show up." This is one of the drawings came about during the Coronavirus quarantine.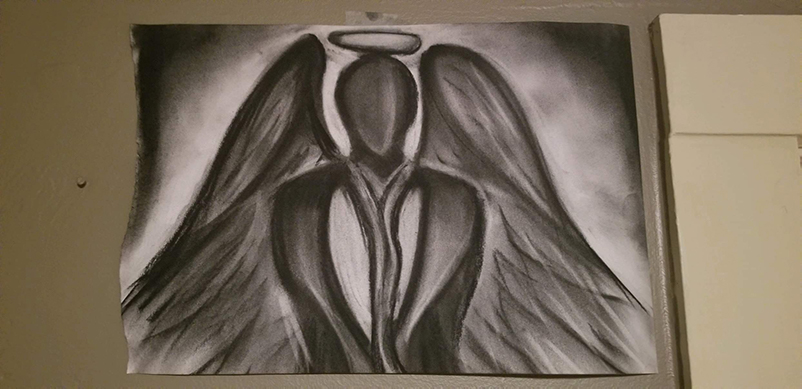 I took a lot of my evenings during that time to unwind from the day and the stresses of the news by trying new things, and these are some of outcomes!
Amy Trosper, Career Center Assistant/Employer Services Representative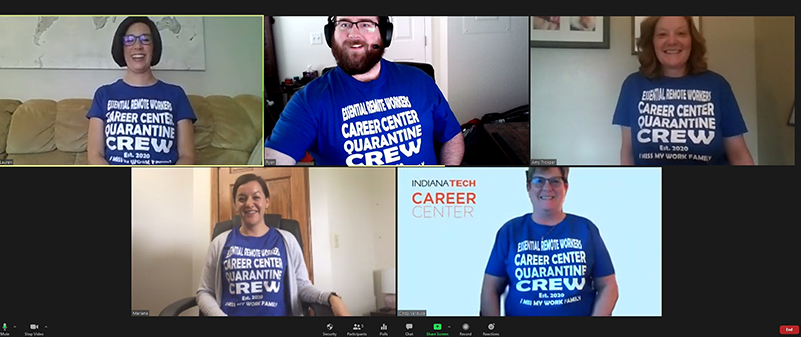 As members of the Essential Workers Career Center Crew, we had shirts made to help unify us as a work-from-home team. We also learned to embrace Microsoft Teams (before COVID-19) and used it as our main source of contact with each other, including morning and afternoon team huddles, and for storage of all our active documents. We rocked the WFH gig!
Julie Farison, Creative Director
May I submit something about someone else? David Rumsey's baking YouTube channel, Food with the Rumseys. I highly recommend the French bread series!
John C. Templin, Database Administrator
As the database administrator for Indiana Tech, some of my work is done after hours or on weekends. Much of this is always done remotely. For me, my day changed during the stay-at-home order to focusing on helping people work remote that weren't used to it. It was comical at times listening to the sounds of home life while working. Kids, pets, doorbells, things getting knocked over—you name it, I heard it.
Judy Roy, Executive Vice President for Finance and Administration
My home office space was my kitchen table, which looks out over my backyard. During my time working at home, I was privileged to watch my weeping cherry tree bud and then fully bloom. It was absolutely beautiful! I would not have been able to enjoy this if I had been in my Indiana Tech office.
Robin Seaton, Admissions Representative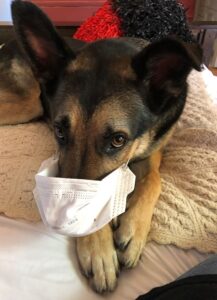 It was easy, and is still easy, to let negative thoughts and feelings creep in during COVID-19. I've always had an attitude that looks for the positive and tries to be optimistic, so it helps me to filter out some of the constant barrage of sad news. Having had the opportunity to work from home led me to focus and center on things that provide me with what I needed to make it through each day. I would make a point to focus on something positive and good. It was easier some days than others.
I've always had a sense of gratitude. There are still so many things to be thankful for. I have an amazing family and I have a job that I love. Working remotely allowed me the opportunity to reach out to students, alumni and corporate customers with the intent to simply check-in and let them know I'm here and thinking of them. I've realized that helping others helps me feel better about myself and my own life.
Whether it was looking at the baby robins nesting or noticing the trees beginning to bud, or even working with my sweet dog Hank on my lap, there was and still is so much to be grateful for. There's collateral beauty all around.