Indiana Tech partners with State of Indiana on Workforce Ready Grant program
Indiana Tech is now an approved education provider for Indiana's Workforce Ready Grant, which is part of the state's Next Level Jobs program. The initiative provides state residents with free training in high-paying, in-demand industries like manufacturing, construction, health sciences, business, information technology and more. Qualifying students can have the entire cost of an undergraduate certificate from Indiana Tech covered by the grant. The university was awarded $1 million in Workforce Ready Grant funding for the 2020-21 academic year.
Indiana Tech offers undergraduate certificates in high-demand fields that allow students to improve their knowledge and skills, giving them a competitive edge and enabling them to advance in their careers. Each undergraduate certificate is comprised of six to seven courses, and students can choose from the following programs:
Basic Accounting
Management
Construction Management
Marketing
Health Care Administration
Organizational Leadership
Human Resources Management
Production Management
InsurTech
"This is exciting news for the university and students alike, as Indiana Tech is the only four-year university that's part of the Workforce Ready program," said Steve Herendeen, vice president for enrollment management at Indiana Tech. "All of our degree and certificate programs are industry-focused and designed with employers' needs in mind. The undergraduate certificates offer students skills and training they need in order to prepare for the jobs of the future."
Learn more at the Workforce Ready Grant news story.
Six incoming students earn elite Presidential and Gill Scholarship awards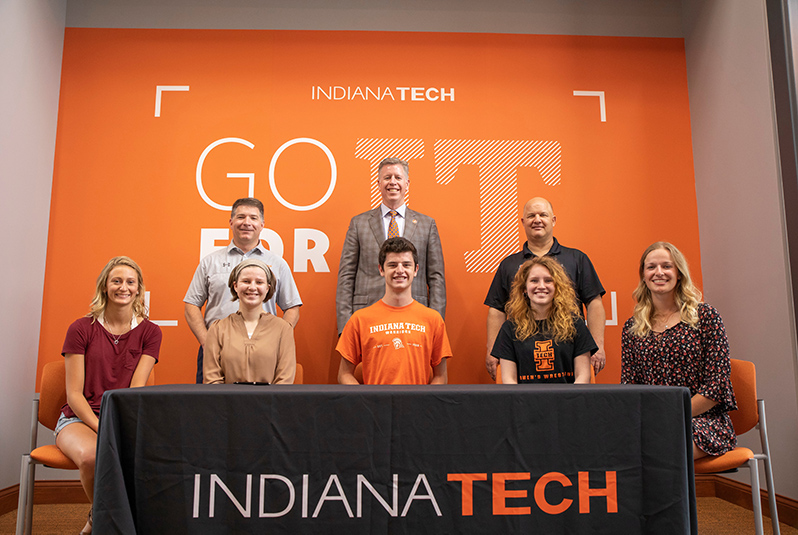 Six students have earned full-tuition scholarships to attend Indiana Tech this fall. Four were awarded the university's Presidential Scholarship while the other two earned the H. Robert and Lois Gill Scholarship. The award winners were announced during a special signing ceremony in Indiana Tech's Abbott Center earlier this summer.
Presidential Scholars included:
Jessica Hartmus, Bishop Luers High School, Fort Wayne: Jessica will pursue a Bachelor of Science in Mechanical Engineering and will be a member of the Warrior's women's lacrosse team. At Bishop Luers, Jessica was part of the school's Catholic Peer Ministry Club and its Knights for Life organization.
Riley Horvath, Jimtown High School, Elkhart, Ind.: Riley will pursue a Bachelor of Arts in Communication and will be a member of the Warriors' first women's wrestling team, which is slated to begin competition this fall. Riley is known in her community for her volunteerism and work with youth groups.
Nina Penny, De La Salle Institute, Chicago, Ill: Nina will pursue a Bachelor of Science in Biology and will be a member of the Warriors' women's volleyball team. Nina earned the Bausch-Lomb Award for excellence in the field of science during her senior year at De La Salle.
Katelyn Sebring, Heritage Junior/Senior High School, Monroeville, Ind.: Katelyn will pursue a Bachelor of Science in Business Administration, concentrating in management. She will also be a member of the Warriors' women's track and field team.
Gill Scholars included:
Julia Bockstahler, Victor J. Andrew High School, Oak Forest, Ill.: Julia will pursue a Bachelor of Science in Computer Science and will be a member of the Warriors' women's golf team. A passionate volunteer in her community, Julia is president of Julia's Legacy of Hope and she is on the committee for the St. Baldrick's Foundation.
Jared Carr, Perrysburg High School, Perrysburg, Ohio: Jared will pursue a Bachelor of Science in Mechanical Engineering and will be a member of the Warrior's men's bowling team. Jared is known in his community for his work with veterans, the underprivileged and Special Olympics.
"This 2020 group of scholars is distinct, as they have each had to demonstrate academic strength and resiliency during unprecedented circumstances created by COVID-19," said Dr. Dan Stoker, vice president for student affairs and chair of the Indiana Tech Presidential Scholars selection committee. "Like all others in the Class of 2020, they completed their high school careers virtually. Yet, before that, they demonstrated the highest levels of success through community service, excellence in athletics and strong character."
During the signing ceremony, Indiana Tech also honored the life accomplishments of Lauren Romeo with a posthumous Presidential Scholarship. Lauren, a Hobart, Ind., native, passed away unexpectedly on Jan. 1—days after submitting her application for the scholarship. She was an academically strong candidate who intended to pursue graphic design and play on the women's soccer team.
Presidential Scholars at Indiana Tech undergo several stages of application, interviews and review as part of the selection process. Each Presidential Scholar must demonstrate excellence in academics and extracurricular activities, a high level of character and a commitment to community service. Throughout their college careers at Indiana Tech, Presidential Scholars work together on community service and leadership development projects in addition to their academic and extracurricular pursuits.
The Gill Scholarship is named for Robert Gill, a 1960 electronics engineering graduate of Indiana Tech, and his late wife, Lois. Much like recipients of the Presidential Scholarship, Gill Scholars must demonstrate excellence in academics and extracurricular activities, a high level of character and a commitment to community service and the admirable qualities and traits of a good leader, as outlined by the Indiana Tech Scholars Leadership Program.
This year's group of 41 Presidential Scholarship applicants included 22 who had a high school GPA of 4.0 or higher and 24 who intend to compete in intercollegiate athletics. Eighteen applicants were from states outside Indiana, including Colorado, Florida and Massachusetts.
University earns Military Friendly® designation for ninth straight year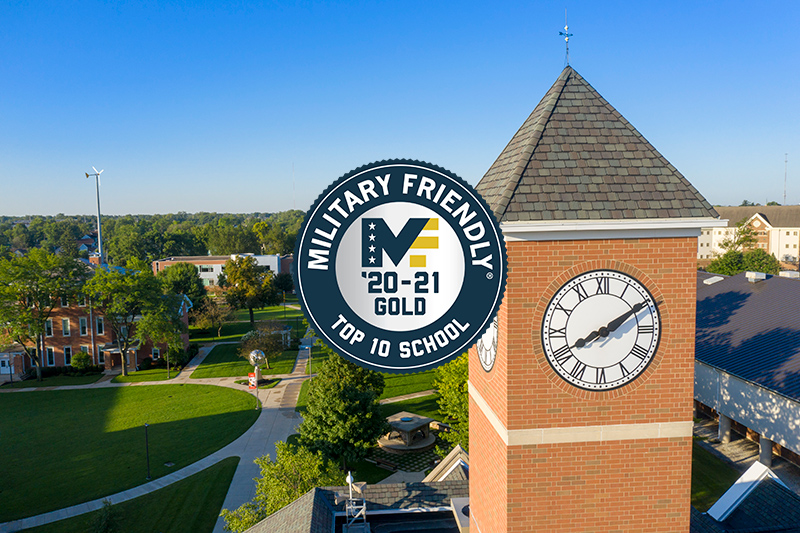 Indiana Tech has been designated a Military Friendly® School for 2020-21 by Viqtory, a service-disabled, veteran-owned small business (SDVOSB) that connects the military community to civilian employment, educational and entrepreneurial opportunities. Military Friendly® is the standard that measures an organization's commitment, effort and success in creating sustainable and meaningful benefit for the military community.
This year, Indiana Tech was recognized as a Top 10 Gold-Level institution—the highest level ever achieved by the university. According to Viqtory, a Top 10 Gold-Level designation indicates Indiana Tech is a "guidon bearer for military/veterans programs and initiatives," and sets standards for other institutions to follow. Indiana Tech has been recognized as a Military Friendly® School for nine straight years.
"Indiana Tech has a long-standing tradition of connecting those who have served our country with tools and resources that will help them move forward in their careers," said Director of Indiana Tech Military & Veteran Services Ryan Ozbun. "The outstanding professionals in my department take great pride in upholding this tradition and knowing the ins and outs of military education benefits so that our clients get the quality service they deserve."
Indiana Tech's Military & Veteran Services office extends its support to current members of the military, veterans and military spouses. Learn more at military.indianatech.edu.
Central Grounds coffee shop opens on main campus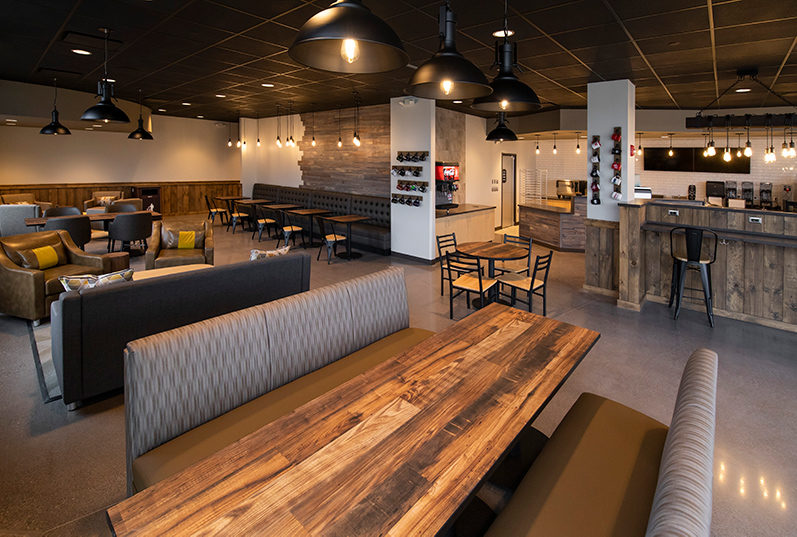 August brought a new addition to campus dining with the grand opening of the Central Grounds coffee shop on the ground level of Summit Hall. Featuring coffee from Fort Wayne's own artisanal coffee company, Utopian Coffee, Central Grounds also offers a wide array of teas, fruit smoothies, breakfast sandwiches and healthy breakfast bowls. Central Grounds is currently open 7:30 a.m. to 2 p.m., Monday through Friday, with future plans including expanded hours into the evening each day and on weekends. The coffee shop is open to the public and accepts cash, credit cards and Indiana Tech meal plan cards. Outdoor and indoor seating is available.
Career Center holds its RISE Awards Ceremony virtually
On Thursday, May 14, Indiana Tech's Career Center held its annual RISE (Recognizing Interns, Students and Employers for Outstanding Work) Awards ceremony online.
Intern of the Year: Leonardo Corso, Vera Bradley
Student Employee of the Year: Cecilia Heck, Indiana Tech Human Resources
Faculty Members of the Year: Dominic Lombardo and Kim Spielman
Employer of the Year—For Profit: BAE Systems
Employer of the Year—Non-Profit: Parkview Health
Outstanding Internship Program/Supervisor of the Year: Sonya Snellenberger Holm, Director of Talent Initiatives at Northeast Indiana Regional Partnership
Honorable Mentions Intern of the Year:
College of Arts & Sciences: Kirklan Ziambao, Flow Recreation, LLC
College of Business: James Ohms, Rea Magnet Wire
College of Engineering: Adam Swanson, Rea Magnet Wire
Indiana Tech, StraighterLine collaborate to make sure students are prepared for the academic environment
Indiana Tech's Office of Student Success and the online education company StraighterLine, Inc. have collaborated to create the Indiana Tech Readiness Academy, a program that will help adult and online students within the university's College of Professional Studies (CPS) be more academically prepared for the college environment. The program launched July 26, the first day of Session One CPS classes.
The Indiana Tech Readiness Academy will provide two basic classes—in English and mathematics—to all new CPS students with less than 30 earned transfer credits who have not previously tested out of the courses. Students will have 12 weeks to complete both courses at no cost to them.
For Indiana Tech, the Readiness Academy is just a good investment in its students. Getting students up to speed with the fundamentals of English and mathematics is going to equip them with necessary foundational skills and help them approach future coursework with confidence.
"One of the main reasons that we wanted to add the Readiness Academy to our student success initiatives is the fact that we are continuing to see a greater growing population of underprepared students," said Nicole Scott, Ed.D., associate vice president of student success at Indiana Tech.
"Much like we saw with the recession in 2008, the global pandemic is creating job losses and making people decide to go back to school. As a result, we have students that maybe never even thought of going to college or haven't been to college in 15 or 20 years coming in and feeling a little overwhelmed," she added. "At Indiana Tech, we're giving students within that population a great advantage over a student who would not have a readiness program to help prepare them with those critical foundational skills like writing and math."
The two preparatory courses are offered online through StraighterLine, which has been delivering low-cost affordable college classes online for the past 12 years. Over the past year, the company has sought to partner with schools to create specialized pathway programs, much like the Readiness Academy.
"I think this program has great potential and I think we'll see significant increases in retention and student success relatively quickly," Scott said. "It just makes sense—you're filling in the gaps for those things that are going to be absolutely imperative for people to be successful in their first year of college and beyond."