Summer in the Midwest means many things: long sunny days, barbecues with family and friends, garden fresh vegetables and, of course, baseball. Some of Indiana Tech's regional locations got in on the fun by hosting events with their local baseball teams this summer.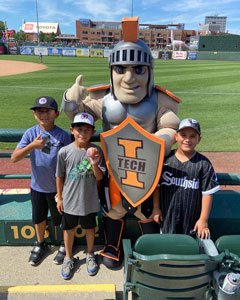 It was Indiana Tech's first time hosting an event with the South Bend Cubs at Four Winds Field on June 26. The beautiful, sunny afternoon was enjoyed by approximately 30 students, alumni, corporate partners, and staff and their family members. The group enjoyed a fun afternoon of baseball, food and prizes, but the highlight was a special appearance from Maximus, who threw out the first pitch and mingled with the crowd throughout the game.
"We appreciate our extended family of corporate partners, students, alumni and staff who came out to enjoy a fun day of baseball with us," said Ellen Brown, enrollment manager in Mishawaka. "It was our first time hosting an event with the South Bend Cubs, but it definitely won't be our last. We can't wait to do it again next year!"
Indiana Tech night with the Lafayette Aviators has become a summer favorite among students and staff alike. This is the third time that the Lafayette admissions team has hosted an event with the Aviators at the beautiful Loeb Stadium. This year, the July 22 game was well attended by 50 Indiana Tech students, alumni and their families.
"We're always looking for ways to engage with our online students, and our annual Indiana Tech Night with the Aviators is the perfect opportunity to do so," said LaCinda Garriott, admissions representative in Lafayette. "Many students brought their friends and family to the game with them. The sea of orange shirts and happy faces was such a visibly positive message to the community about what Indiana Tech stands for. We look forward to continuing this tradition in the years to come!"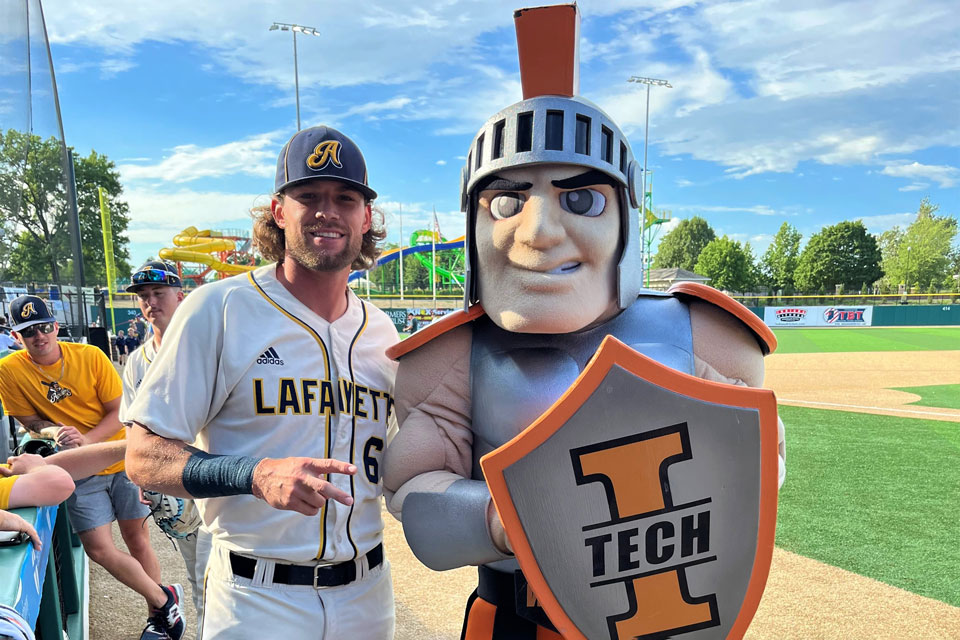 Maximus made a special appearance at the Aviators game, as well. He threw out the first pitch and stuck around for some high-fives and pictures. He even got to meet and take a picture with Indiana Tech's own student and baseball team member, Mike Snyder, who played his second season with the Aviators this summer.